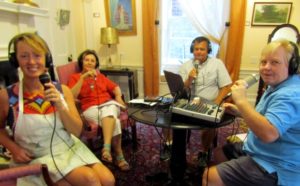 Find out the latest information about our beautiful and happening town of New Bern and Beyond. Beyond, meaning our travels throughout Eastern North Carolina.
Listen to our podcast show here:

During this show, New Bern Now's Podsquad: Rich Sheridan, Lisa Bisbee-Lentz, Susan Moffat-Thomas, and I highlighted numerous businesses and non-profits in and around New Bern! Laura Johnson will be back soon.
Show Notes:
01:00 – Zach Frailey Uprooted Photographer – Composites of Old Photos with New Photos
2:43 – How is the Adult Enrichment Program coming along?
4:11 – "Lanterns on the Lawn" – A Family Campout at Tryon Palace
5:53 – Tryon's Explorers: School Days at the North Carolina History Center
6:06 – Interview with Chris Jones and about his Band, The Spread performing during Artcrawl in the Isaac Taylor House and Gardens
6:13 – Poet Laureate Shelby Stephenson performing during Open Mike Night at the New Bern-Craven County Library
7:11 – Investment in New Bern over the last 30 years
12:10 – The Entrepreneur Panel "Tips for Success" Event
18:00 – Interview with Frankie Hill, Member of Bethany Christian Church about upcoming BBQ Chicken Fundraiser for Susan Wethington
19:55 – Promise Place will host its 3rd Annual Barn Bash Fundraiser with BBQ Dinner, Auctions, and Entertainment – Interview with Megan Beyer
22:34 – Bike MS: Historic New Bern Ride 2016 at Union Point Park. Presented by the Greater Carolinas Chapter
24:18 – Musical Diversity: American Banjo, 10:30am, presented by the Carolina Chamber Music Festival at the New Bern – Craven County Library.
24:34 – Black Owl Guitars
25:12 – Interview with Jennifer Bertling, Girl Scout Leader for Troop 863 and volunteer for Craven County Girl Scout Service Unit in New Bern about upcoming Girl Scout Event
26:47 – Racial Indoctrination: The Mechanisms of Slave Control in North Carolina, 7:00pm at the Cullman Performance Hall, North Carolina History Center.
27:47 – 3rd Annual Craven County Veterans Standdown, 9:00am – 1:00pm at the National Guard Armory
28:56 – Lifetime Learning Center at Craven Community College International Films and Trips
29:54 – Interview with Claudia Houston, Independent Consultant with Creative Memories and Ambassador for Forever
32:41 – Prohibition Bar adds Grill to Business
33:34 – Learn to Podcast
33:49 – Listen to Jim Bisbee's Podcast from Fine Art at Baxters Art Gallery
34:59 – Day Trippin'
36:35 – Upcoming Events
Tune into our latest Podcast episodes and radio interviews on ITunes.
Please let us know if you have any comments, suggestions, or would like to set up an interview and spread the word about a special event or other interesting topic. We look forward to hearing from you!
You can subscribe to New Bern Now and Beyond by pressing the orange Syndication RSS feed located under the calendar: http://newbernnow.libsyn.com/.
Tell us what you think by sending us an email or calling 252-638-6858. Visit NewBernNow.com or New Bern Now's Facebook page or sign up for daily updates by submitting your email address in the right margin on New Bern Now's website.
Wendy Card