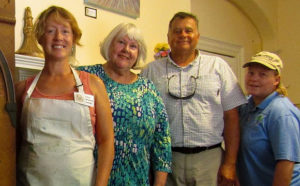 Find out the latest information about our beautiful and happening town of New Bern and Beyond. Beyond, meaning our travels throughout Eastern North Carolina.
Listen to our podcast show here:

During this show, Special Guest, Nancy Hawley joined our Podsquad: Rich Sheridan, Lisa Bisbee-Lentz, Laura Johnson and I as we highlighted numerous businesses and non-profits in and around New Bern! Susan Moffat-Thomas and Laura Johnson will be back soon.
Show Notes:
00:15 – Jonkonnu Workshops and Behind the Scenes: Costume Shop Tours, and 36th Annual Christmas Candlelight Auditions at Tryon Palace
5:58 – Brief History of Artists in Eastern North Carolina Book
6:39 – Mural Painting Projects
8:43 – Watermelon Day at the New Bern Farmers Market
9:19 – Discovery Map of Crystal Coast
9:48 – Bear Towne Bears
10:22 – Interview with Pat Drake, co-owner of the UPS Store of New Bern, about the Tryon Civitan's 3rd Annual "No Child Wet Behind" Diaper Drive
12:31 – Craven County Partners in Education and Craven County Schools Stuff the Bus Event
13:04 – Historical Downtown Residents Association (HDRA)
14:04 – Coastal Carolina Purple Heart Dinner
14:38 – The Safe Nest Project Fundraiser for the Coastal Women's Shelter, The Staff House, and Religious Community Services
15:20 – Antique Automobile Club of America's 2016 Southeastern Fall Meet on the streets of Historic Downtown New Bern
15:50 – ArtWalk and ARTcrawl throughout Downtown New Bern.
17:24 – Shrimp Feast with music by Tommy Thomas at the New Bern Shrine Club.
18:02 – New Bern Historical Society "Seeks a Few Good Ghosts" – Ghostwalk Auditions
19:11 – Savi's Wine and Cheese
22:11 – MUMfest
24:38 – Colonial Stand Up Paddleboard Race
25:13 – Researching your Family Tree
26:00 – Daytrippin'
29:40 – Upcoming Events
Tune into our latest Podcast episodes and radio interviews on ITunes.
Please let us know if you have any comments, suggestions, or would like to set up an interview and spread the word about a special event or other interesting topic. We look forward to hearing from you!
You can subscribe to New Bern Now and Beyond by pressing the orange Syndication RSS feed located under the calendar: http://newbernnow.libsyn.com/.
Tell us what you think by sending us an email or calling 252-638-6858. Visit NewBernNow.com or New Bern Now's Facebook page or sign up for daily updates by submitting your email address in the right margin on New Bern Now's website.
Wendy Card