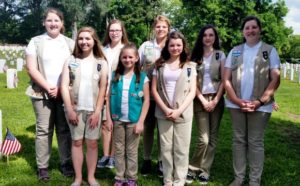 "We're Girl Scouts and we believe every girl can change the world.  We can't wait for you and your girl to get started."
Event features jewelry making, team building, singing, socializing, enjoying a scrumptious snack and more!
Join us on Saturday, September 10th from 10:00am to 11:30am at Number 7 Township Fire Department, 1705 Old Cherry Point Rd. New Bern (James City).
This is a free event.  Annual membership to Girl Scouts is $15 per girl. *Financial assistance is available.
For more information call 800-284-4475 or visit: JoinGirlScoutsNC.org.
Submitted by: Jennifer Bertling, Girl Scout Leader for Troop 863 and volunteer with the Girl Scouts of Craven County Service Chapter in New Bern