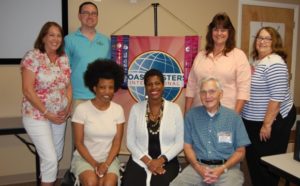 New Bern Toastmasters celebrates another exceptional year earning President's Distinguished for the second year in a row, the highest club designation awarded by Toastmasters, Intl. New Bern was one of three clubs in Division J (sixteen clubs) to complete the required goals necessary to attain the prestigious award.  In addition, four club members (Latisha Bell, Vera Lindley, Jane Maulucci, and Margaret Volney) competed in speech contests at the area and district level.
"I am very proud of our club.  We have an outstanding and supportive group of individuals that bring so much to our club and to our community.  It is a pleasure to watch every member grow in confidence and in their ability to communicate and to lead.  Toastmasters is an exceptional program," said outgoing President Heather Noto.
New Bern Toastmasters elected their new slate of club officers to serve for the 2016-2017 term. Those elected are President, Latisha Bell; Vice President of Education, Sheila Meadows; VP of Membership, Margaret Theis; VP of Public Relations, Bob Mackowski; Secretary, Ericka Foluke; Treasurer, Karen Monroe; and Sergeant at Arms, Robert Norris.
People join Toastmasters for various reasons. Becoming a member provides a great opportunity to hone speaking skills, overcome fear of public speaking, prepare for job interviews, and develop leadership skills in a supportive and self-paced environment. Toastmasters provides the more seasoned speaker with opportunities to develop special capabilities, to compete on the regional, state and national level, and to participate in the speaker's bureau.
New Bern Toastmasters Club meets every Monday night at 6:30 p.m. at Keller Williams Realty, 1320 McCarthy Blvd.  New Bern. Guests are always welcome!
Find us on Facebook at: Toastmasters International – New Bern, N.C. Chapter
About Toastmasters International: Toastmasters International is a nonprofit educational organization that teaches public speaking and leadership skills through a worldwide network of clubs. Founded in October 1924, the organization currently has more than 280,000 members in 13,500-plus clubs in 116 countries. Each week, Toastmasters helps more than a quarter million people of every ethnicity, education level and profession build their competence in communication so they can gain the confidence to lead others. For information about local Toastmasters clubs, please visit ToastMasters.org. Follow @Toastmasters International on Twitter.
Submitted by: Heather Noto, Immediate Past President, New Bern Toastmasters Club