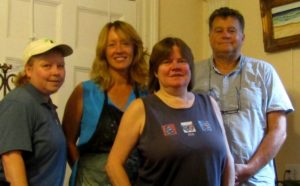 Find out the latest information about our beautiful and happening town of New Bern and Beyond. Beyond, meaning our travels throughout Eastern North Carolina.
Listen to our podcast show here:

During this show, New Bern Now's Podsquad: Rich Sheridan, Lisa Bisbee-Lentz, and I, highlighted numerous businesses and non-profits in and around New Bern! Jaiden Frost, Filmmaker of "Victims of Burial" joined us at the end to talk about his upcoming movie.
Susan Moffat-Thomas and Laura Johnson will be back soon.
You can't say there's nothing to do in New Bern…
00:22 – Painting with Lisa
00:48 – Jon Derby Journals for the Greater Good Gallery and the Downtown Artcrawls
1:09 – July ArtCrawl with Bernaroo
1:53 – Gem Productions
2:42 – New Bern has 100 Local Bands
4:04 – Interview with Jon Burger, Marketing and Gallery Director, Craven Arts Council and Gallery at the Bank of the Arts talking about ArtWalk's 10th Year Anniversary and upcoming Events
7:32 – Summer Concert Series "Music Comes Together Here" presented by the New Bern Chamber of Commerce
8:26 – Local Author, Sam Love's Launch Party for his new book "My Little Plastic Bag" illustrated by Samrae Duke
8:56 – Working the Musical
9:13 – Bye Bye Birdie
9:27 – Jonkonuu Workshop
9:47 – Jennifer Licko Band "Celtic Summer Nights"
10:29 – Merchant's Road
10:45- David English's Black Owl Guitars
11:02 – Celebrity Chef Curtis Aikens will be coming to town for special event
12:28 – Colorfest New Bern
13:48 – Movie in the Park: Pan
14:23 – Shark teeth at Union Point Park
15:01 – Project OSS
17:51 – Lunch and Learn: Science in the Age of Enlightenment
21:06 – Daytrippin' with Rich
21:31 – Shark Week at the NC Aquarium at Pine Knoll Shores
21:49: – Big Rock Tournament results
22:07: – Chasin' Tails Tournaments
22:37 – Concert Cruise with Bryan Mayer on the Crystal Coast Lady
23:27 – Colonial Stand Up Paddle Board Race
24:40 – Special Guest is Filmmaker Jaiden Frost, Director, Producer, and Screen Writer of "Victims of Burial", Paranormal Investigators in NC: VictimsofBurial.com
We'll be back on July 20th.
Tune into our latest Podcast episodes and radio interviews on ITunes.
Please let us know if you have any comments, suggestions, or would like to set up an interview and spread the word about a special event or other interesting topic. We look forward to hearing from you!
You can subscribe to New Bern Now and Beyond by pressing the orange Syndication RSS feed located under the calendar: http://newbernnow.libsyn.com/.
Tell us what you think by sending us an email or calling 252-638-6858. Visit New Bern Now's Facebook page or sign up for daily updates by submitting your email address in the right margin on New Bern Now's website.
Wendy Card