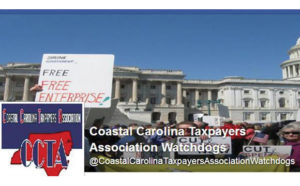 Disclosure: We publish political announcements for informational purposes as our goal is to provide a neutral ground for readers to form their own opinions.
Could North Carolina be the twelfth state to institute "Constitutional Carry" as the overriding principle in local gun rights?  State Representative Larry Pittman of Cabarrus County will be in New Bern, Tuesday, July 19th to explain legislation he will introduce in January when the NC Legislature reconvenes.
Pittman will be the keynote speaker at the July public meeting of Coastal Carolina Taxpayers Association to be held at Stanly Hall Ballroom this Tuesday at 7pm in New Bern.  State Representative Michael Speciale will also be on stage to give an update regarding accomplishments and budget decisions made during the recent short session at the state legislature.
Pittman has been a key player in recent years in the effort to reduce government regulation of hand guns in North Carolina.  While Pittman recognizes a need for some documentation of concealed carry permit holders to maintain reciprocal agreements in other states, he supports an overall reduction of state regulation.
Constitutional Carry is generally defined as no encumbrances to hand gun ownership for law abiding citizens.  Gunlaws.com defines it as no tests, no taxes, and no paperwork or government permission slips.  With eleven states already having some form of Constitutional Carry, there is sure to be discussion regarding the impact of limited or no regulation in those jurisdictions.
This meeting is free and open to the public.  Everyone interested in keeping up with what is happening in North Carolina regarding individual gun rights is strongly encouraged to attend.
Coastal Carolina Taxpayers Association is a 501-C3 nonprofit, non-partisan organization dedicated to lower taxes, smaller government, individual liberties and protection of the US Constitution and the free enterprise system.  Membership in CCTA is open to everyone.
The CCTA public meeting will begin at 7 PM in the Stanley Hall Ballroom at 305 Pollock Street, downtown New Bern.  Note, for easy access there is also an elevator entrance at 249 Craven Street.  Refreshments and educational displays are available 30 minutes before the meeting.
For more information, contact Rick Hopkins – Program Chairman of CCTA at 252-626-3662.
Article written and distributed by Bill Poole, Publicity Chairman for Coastal Carolina Taxpayers Association
Wendy Card