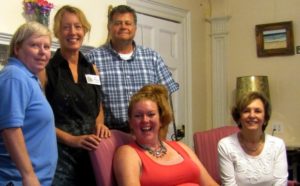 Find out the latest information about our beautiful and happening town of New Bern and Beyond. Beyond, meaning our travels throughout Eastern North Carolina.
Listen to our podcast show here:

During this show, New Bern Now's Podsquad: Lisa Bisbee, Laura Johnson, Susan Moffat Thomas, Wendy Card, Rich Sheridan, with Special Guest, Meg Wethington, and I, highlighted numerous businesses and non-profits in and around New Bern!
You can't say there's nothing to do in New Bern…
Show Notes:
00:25 – New Bern Poetry Open Mike night every first Tuesday of the Month
3:03 – Keep the Change with Meg Wethington
4:15 – Events at City Laundry
6:08 – Interview with Kathy NeSmith – Calling all Artists for Coastal Women's Shelter Safe Nest Fundraiser
7:20 – New Bern Now's Community BBQ at the Isaac Taylor Gardens
19:46 – Craven County Partners In Education Spring Luncheon
11:20 – Annual Fly-In Event and Movie presented by the Eastern Carolina Aviation Heritage Foundation
11:45 – Fife and Drum Summer Camp
12:02 – Interview with Colleen Roberts about upcoming camps presented by the City of New Bern Parks and Recreation
14:40 – Community and Economic Development – The Nonprofit Economy
15:33 – Community Artist Will's Art Education Initiative with Workshops
15:52 – New Bern Arts and Wellness Center Classes
15:58 – Artist Ed MacComber and Ballantyne Framing
16:32 – Huntington's Disease Documentary
18:02 – Brew Bern Beer and Wine Festival and Beer Army Burger Company
18:57 – New Bern-Craven County Library Artist of the Month Reception
19:15 – Coast Guard Auxiliary Boat Safety Course
21:48 – Crystal Coast Discovery Map 2016
23:05 – New Bern Area Chamber of Commerce's Bern Summer Blast
23:25 – Brutopia
25:10 – Lunch and Learn "A Look at Tryon Palace's Glorious Forth"
25:48 – Journey of Hope Cancer Support Center's Luau Celebration for Cancer Survivors
27:23 – African American Heritage Tour
28:03 – Downtown ArtWalk and ArtCrawl
29:10 – Day Trippin' to the Crystal Coast
32:43 Upcoming Events in and around New Bern
We'll be back on June 20th.
Tune into our latest Podcast episodes and radio interviews on ITunes.
Please let us know if you have any comments, suggestions, or would like to set up an interview and spread the word about a special event or other interesting topic. We look forward to hearing from you!
You can subscribe to New Bern Now and Beyond by pressing the orange Syndication RSS feed located under the calendar: http://newbernnow.libsyn.com/.
Tell us what you think by sending us an email or calling 252-638-6858. Visit New Bern Now's Facebook page or sign up for daily updates by submitting your email address in the right margin on New Bern Now's website.
Wendy Card