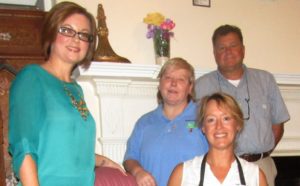 Find out the latest information about our beautiful and happening town of New Bern and Beyond. Beyond, meaning our travels throughout Eastern North Carolina.
Listen to our podcast show here:

During this show, New Bern Now's Podsquad: Rich Sheridan, Lisa Bisbee-Lentz, Laura Johnson, with Special Guest Colleen Roberts and I, highlighted numerous businesses and non-profits in and around New Bern! Susan Moffat-Thomas will be back soon.
You can't say there's nothing to do in New Bern…
Show Notes:
00:23 – City News from Colleen Roberts
00:48 – City 3 TV
1:49 – City of New Bern July Fourth Events
4:58 – Other Independence Day Events and Celebrations around Town
7:36 – New Bern Police and Fire Department and Emergency Services
9:37 – A-1 Fire and Safety
10:14 – The Community and Economic Development: A Non-profit Economy presented by the New Bern Area Chamber of Commerce
10:36 – Speed Networking presented by The Entrepreneur Center of Craven County
11:31 – Interview with Tameka Bright, Director of the Miss Spirit and Sparkle Pageant
13:07 – Golf Tournament presented by the Craven County Autism Society of North Carolina
14:00 – Congratulations to Lisa Bisbee-Lentz as she was featured on the cover of My New Bern magazine
15:02 – Painting classes with Lisa at the Greater Good Gallery
15:28 – Bridgeton Blueberry Festival
16:35 – Brew Bern Beer and Wine Festival
16:50 – Transportation in and around town
17:21 – Tryon Palace Waystation and Tours
17:48 – Jonkonnu Performances
18:36 – Costume Design
19:48 – Positive critiques vs. bullying
22:26 – "Everything Comes Together Here"
28:45 – Daytrippin'
32:00 – Golden Leaf Grant for the City Market and Workforce Development Training Center
37:12 – New Bern Parks and Recreation Admin Office relocated
38:03 – Upcoming Events
We'll be back on July 4th.
Tune into our latest Podcast episodes and radio interviews on ITunes.
Please let us know if you have any comments, suggestions, or would like to set up an interview and spread the word about a special event or other interesting topic. We look forward to hearing from you!
You can subscribe to New Bern Now and Beyond by pressing the orange Syndication RSS feed located under the calendar: http://newbernnow.libsyn.com/.
Tell us what you think by sending us an email or calling 252-638-6858. Visit New Bern Now's Facebook page or sign up for daily updates by submitting your email address in the right margin on New Bern Now's website.
Wendy Card