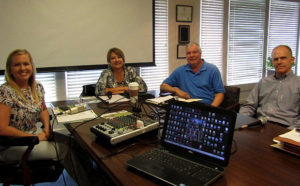 Find out the latest information about the Entrepreneur Center of Craven County as it will have an incredible impact on our community!
This podcast specifically focuses on The Entrepreneur Center with special guests, Timothy Downs, Director of Craven County Economic Development and the Craven 100 Alliance; Cindy Blot, City of New Bern Community and Economic Development Manager; Rebecca Moorer, Director of the Small Business Center at Craven Community College; and Jim Bisbee, Chair, Swiss Bear Downtown Development Corporation.
Listen to the podcast show here:

Show notes:
00:24 – Historical background around the idea, how did it come into being, and what has the process been?
1:29 – Who are the partners involved and what are their roles?
2:26 – Physical location is 509 Broad Street also known as "The Cube".
3:20 – How will the Center be funded?
4:56 – What are the opportunities for people/businesses to sponsor, partner, and donate to the Center?
5:29 – Tell us about your monthly meetings with entrepreneurs and your upcoming events.
6:31 – What is the Sweat Equity Event on June 4, 2016?
7:42 – What is the Entrepreneur Center concept as a whole?
8:56 – What is the vision for "The Cube"?
9:35 – How will Craven Community College's Small Business Center work with the Entrepreneur Center?  What programs will be offered?
12:14 – Will offices be available to rent?
13:14 – What is an Entrepreneur and who could benefit from the Center?
14:50 – What is the shared space vision for the Center?
16:27 – What's the current status of the project?
16:40 – What are the future plans?  What about other communities in the county and neighboring counties?
18:20 – Do you have to become a member? If so, what are the membership levels?
For more information call 252-633-5300.
Tune into our latest Podcast episodes and radio interviews on ITunes.
Please let us know if you have any comments or suggestions.
You can subscribe to New Bern Now and Beyond by pressing the orange Syndication RSS feed located under the calendar: http://newbernnow.libsyn.com/.
Tell us what you think by sending us an email or calling 252-638-6858. Visit New Bern Now's Facebook page or sign up for daily updates by submitting your email address in the right margin on New Bern Now's website.
Wendy Card