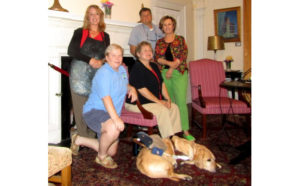 Find out the latest information about our beautiful and happening town of New Bern and Beyond. Beyond, meaning our travels throughout Eastern North Carolina.
Listen to our podcast show here:

During this show, New Bern Now's Podsquad: Rich Sheridan, Lisa Bisbee-Lentz, Laura Johnson, Susan Moffat-Thomas with Special Guest Penny Zibula and I, highlighted numerous businesses and non-profits in and around New Bern!
You can't say there's nothing to do in New Bern…
Show notes:
00:21 – Jim Bisbee surprised us and talked about ArtWalk/ArtCrawl, Fine Art at Baxters; The Collector's Program, James Carr, Alisa Vaughn, Katherine Thornton, Julie Kelly, and Barbara Curry
5:56 – Susan Moffat-Thomas Jewelry
7:06 – 2nd Annual Craven Literacy Council's Trivia Night
9:18 – Penny Zibula, Travel Writer and Blogger, SixLegsWillTravel.com
10:35 – County Compass
10:50 – Travel Tips, Alerts, and Warnings
18:16 – River Bend Community Organic Garden Strawberry Workshop
18:36 – Water's Edge Restaurant at the River Bend Marina
18:50 – Panichelli's Pizzeria
19:21 – Interview with Melissa Walker and the folks with Chapter 21 of the Federal Managers Association – Annual Fun Run
22:34 – Keller Williams RED Day at Stroke of Faith Farms
23:36 – Bayeux Tapestry Lecture
25:50 – Epiphany School
26:42 – Skin Cancer Screening
28:23 – Tryon Palace Event with Chef Bill Smith
29:10 – Community Leader, the late Jean Hunt Remembered
30:01 – New Bern Civitans and CarolinaEast Foundation build handicap ramps
31:01 – Beach Scene Art
31:19 – Daytrippin'
31:40 – Chasin' Tails Cobia Challenge
31:58 – Carteret County Parks and Recreation Fun Run
32:15 – Beachkeepers Cleanup Event at Shackleford Banks
33:14 – New Discovery Map Crystal Coast
34:20 – Upcoming Events (May 10 – 21)
36:40- Interview with Pat Drake owner of the UPS Store of New Bern to talk about the Tryon Civitan's Personal Hygiene Drive for RCS.
We'll be back on May 23rd.
Tune into our latest Podcast episodes and radio interviews on ITunes.
Please let us know if you have any comments, suggestions, or would like to set up an interview and spread the word about a special event or other interesting topic. We look forward to hearing from you!
You can subscribe to New Bern Now and Beyond by pressing the orange Syndication RSS feed located under the calendar: http://newbernnow.libsyn.com/.
Tell us what you think by sending us an email or calling 252-638-6858. Visit New Bern Now's Facebook page or sign up for daily updates by submitting your email address in the right margin on New Bern Now's website.
Wendy Card