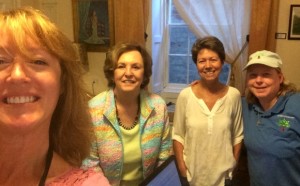 Find out the latest information about our beautiful and happening town of New Bern and Beyond. Beyond, meaning our travels throughout Eastern North Carolina.
Listen to our podcast show here:

During this show, New Bern Now's Podsquad: Lisa Bisbee-Lentz, Susan Moffat-Thomas, Laura Johnson, with Special Guest Alana Gentry and I, highlighted numerous businesses and non-profits in and around New Bern! Rich Sheridan will be back soon!
Have you heard someone say there's nothing to do in New Bern? If so, ask them to listen to our podcast and/or visit NewBernNow.com
Show Notes:
00:33 – Garden's in full bloom
1:03 – Spring Homes and Gardens Tour
1:49 – Climate Change Talk
2:11 – Enjoy the events and services at the New Bern-Craven County Public Library
2:44 – Twin Rivers Artist Association Art Shows at the Library
3:39 – Photo Archives of Families and Homes of Craven County
6:01 – The City Laundry Historical Building turned into Art Studios, Gallery, Café, City Potters Retail Space, Adult Beverage area, Workshop Room, and Event Center
9:07 – New Bern Arts and Wellness Center
9:31 – Happenings at Tryon Palace and the History Center
10:29 – Neuse River Senior Games and Silver Arts Competition
13:37 – Major General Tom Braaten (Ret) is retiring as the Director of the Coastal Carolina Regional Airport
14:28 – Civil War Adventure Day
15:28 – Art History
17:36 – New Bern Battlefield Park
17:58 – Revitalizing Downtown and the Greater New Bern Area
20:26 – Tours of New Bern
21:52 – Septima Clark: Citizenship Education and the Women in the Civil Rights Movement
22:27 – Anna Bulzewicz, WCTI 12 News Anchor talks about the upcoming Fashion Show for the Coastal Women's Shelter presented by Peacock's Plume for the Coastal Women's Shelter. She also tells us about the New Bern Chamber of Commerce's 2nd Annual Professional Women's Conference with Speaker Gail Golden "Finding your Balance, Living in the Moment", presented by the New Bern Area Chamber of Commerce
26:40 – Jeremy LeRay presents "A Beginners Guide to WordPress Security" at the New Bern Area Chamber of Commerce
27:52 – Alana Gentry's a writer, food and wine judge, and also known as the GirlWithAGlass.com among other things.
30:37 – 7th Annual Art at the Airport and the Coastal Carolina Airport Services
34:52 – New Bern Now's Podcast and Community Radio Segments for WNOS 107.5FM and 1450AM.
37:43 – Upcoming events
39:03 – Daytrippin'
We'll be back on April 25th.
Tune into our latest Podcast episodes and radio interviews on ITunes.
Please let us know if you have any comments, suggestions, or would like to set up an interview and spread the word about a special event or other interesting topic. We look forward to hearing from you!
You can subscribe to New Bern Now and Beyond by pressing the orange Syndication RSS feed located under the calendar: http://newbernnow.libsyn.com/.
Tell us what you think by sending us an email or calling 252-638-6858. Visit New Bern Now's Facebook page or sign up for daily updates by submitting your email address in the right margin on New Bern Now's website.
Wendy Card