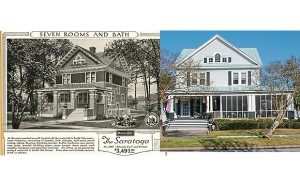 This year's Spring Historic Homes & Gardens Tour on April 8 & 9 will expand to include two historic districts.  While many of the homes will be found in the Downtown Historic District, four homes, never before seen on the Tour, are in the Ghent Historic District.  And two of those homes are Sears Kit Homes.
From 1908 to 1940 Sears Modern Homes sold more than 70,000 through their mail order program.  There are still many found throughout the country and we are pleased to showcase two on this year'sTour.  The home at 1410 Spencer Ave is very likely a Sears Roanoke.  The kit sold for a bargain $1,980.  Further down the block at 1402 Spencer is a home very similar to a Sears Saratoga.  Rose Thornton, an author and expert on early 20th century kit homes was very excited to find these and many other Sears Kit Homes in New Bern. Her reaction: "Oh My!  Who knew that New Bern had so many kit homes!"
In the Downtown District, tour patrons will find many more homes, with 3 that are on the Tour for the first time in its 26 years: the Walter Duffy House on New Street (which is the poster house); on East Front Street, the Oliver House that was moved there in1958; and on Hancock Street, the Pepsi/Dixon House.
The Spring Historic Homes & Gardens Tour is sponsored by the New Bern Historical Society and the New Bern Preservation Foundation.  It will run April 8 & 9 from 10 am to 4 pm with 18 homes, gardens, and bonus sites featured.  In addition, two museums will be open to tour-goers:  The Fireman's Museum in its new location on Broad Street, and the New Bern Academy.  The renovated City Laundry on Pollock Street with its art display will also be open. Many of the downtown historic churches will be open with tours as well.
Tour tickets are $18 in advance, $22 day of the tour and $15 for active duty military and dependents with ID.   All ticket prices include North Carolina sales tax. If ordering an active duty military or dependent ticket you must pick up your ticket at the Historical Society office, 511 Broad St. Tickets are good for both tour days, 10:00 am to 4:00 pm. Homes can be toured in any order.
Tickets are available by phone at 252-638-8558, online credit card at NewBernHistorical.org or at the following outlets:  New Bern Historical Society at 511 Broad St., New Bern Preservation Foundation at 510-B Pollock St., Bank of the Arts at 317 Middle St., Harris Teeter at 2019 S. Glenburnie Rd., Carolina Creations at 317 Pollock St., Mitchell Hardware at 215 Craven St., Ann Lynn's at 4146 Dr. MLK Blvd, The Village Butcher Market & Café at 3515 Trent Rd.,  ASAP Photo at 3701 Charles Boulevard #100, Greenville; and Harris Teeter in Morehead City.
Submitted by: Kathy Morrison, New Bern Historical Society