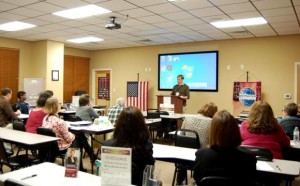 New Bern Toastmasters' International Speech and Table Topics contest will be held Monday, March 14th, 6:30 p.m., at their new meeting location, Keller Williams Realty, 1320 McCarthy Blvd. Guests are welcome to attend and to cheer on the presenters. Winners from the New Bern club contest will compete against Havelock, Jacksonville and Morehead City on March 24, 2016 in Havelock at New Beginnings Ministry of Faith Church. From there, winners go on to compete at the division, district, semi-final and world championship levels.
Keller Williams Realty has offered professional meeting space to the New Bern club for their weekly meetings. "We're delighted to have New Bern Toastmasters hold their club meetings in our training facility," shared Susan Venters, New Bern Keller Williams Team Leader/CEO. The club now holds meetings on Monday nights, 6:30p.m. at 1320 McCarthy Blvd. Guests are always welcome.
The Toastmasters organization has been committed to helping individuals improve their speaking and leadership skills for over 90 years and over 60 years in North Carolina. This training includes time-tested techniques, developed by Toastmasters International.
People join Toastmasters for various reasons. Becoming a member provides a great opportunity to hone speaking skills, overcome fear of public speaking, prepare for job interviews, and develop leadership skills in a supportive and self-paced environment. Toastmasters provides the more seasoned speaker with opportunities to develop special capabilities, to compete on the regional, state and national level, and to participate in the speaker's bureau.
Find us on Facebook at: Toastmasters International – New Bern, N.C. Chapter
About Toastmasters International
Toastmasters International is a nonprofit educational organization that teaches public speaking and leadership skills through a worldwide network of clubs. Founded in October 1924, the organization currently has more than 280,000 members in 13,500-plus clubs in 116 countries. Each week, Toastmasters helps more than a quarter million people of every ethnicity, education level and profession build their competence in communication so they can gain the confidence to lead others. For information about local Toastmasters clubs, please visit Toastmasters.org. Follow @Toastmasters International on Twitter.
Submitted by: Heather Noto, New Bern Toastmasters