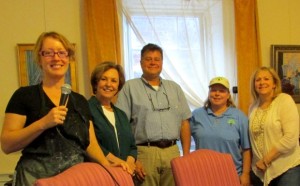 March 14th, 2016
Find out the latest information about our beautiful and happening town of New Bern and Beyond. Beyond, meaning our travels throughout Eastern North Carolina.
Listen to our podcast show here:

During this show, New Bern Now's Podsquad: Rich Sheridan, Lisa Bisbee-Lentz, Susan Moffat-Thomas, Laura Johnson, Special Guest – Sabrina Bengel and I, highlighted numerous businesses and non-profits in and around New Bern!
Show Notes:
00:57 – City Talk New Bern
3:45 – Choice Neighborhoods and Revitalization of Five Points
4:53 – Grassroots Leadership Academy of Public Housing and the Duffyfield Community
5:45 – Announcement of Mickey Miller being selected as the New Bern Historical Society Director effective March 21st
6:37 – Interview with Sheryl Reed about the Community Coalition for Craven County Children's Child Abuse Awareness Month
9:10 – Kathy Adolph and City Laundry
9:14 – Colorfest: Derrick Bryant
10:42 – Pollock Street Corridor – Gateway to New Bern
11:08 – Fundraising Concerts and the Texas Tenors
13:40 – I Love That Lady Event winners Thea Kincaid and Beth Fairchild – Special thanks to Kim Briele and the ILTL Committee
14:50 – New Bern Get Your Pink On
16:10 – New Bern and Craven County Non-profits and our quality of life
21:50 – Sham-Rockin' St Patrick's Day Celebration
22:57 – Downtown New Bern Pub Crawl
24:50 – North Carolina Main Street Conference
25:56 – Upcoming Events
28:10 – Community Calendars of Events (VisitNewBern.com and NewBernNow.com)
30:29 – North Carolina Travel and Tourism Board
33:25 – Asheboro Zoo is the Largest Zoo based on acreage in the World
34:40 – Short driving destinations from New Bern
35:31 – Civil War Tourism in Eastern North Carolina
38:03 – New Bern is a Tourist Destination for the Arts
38:53 – The Down East Folk Arts Festival is coming to New Bern – interview with Steve Kelly
43:05 – Sabrina announces her new position as the Chair Elect effective at the end of the month on the North Carolina Travel & Tourism Board
44:19 – Daytrippin' in Eastern North Carolina
These 30 – 45 minute shows are scheduled for every other week and we will post mini-episodes (community segments) that will also air on New Bern's News Talk Radio Station WNOS.
We'll be back on March 28th.
Tune into our latest Podcast episodes and radio interviews on ITunes.
Please let us know if you have any comments, suggestions, or would like to set up an interview and spread the word about a special event or other interesting topic. We look forward to hearing from you!
You can subscribe to New Bern Now and Beyond by pressing the orange Syndication RSS feed located under the calendar: http://newbernnow.libsyn.com/.
Tell us what you think by commenting below or sending us an email. Visit New Bern Now's Facebook page or sign up for daily updates by submitting your email address in the right margin on New Bern Now's website.
Wendy Card