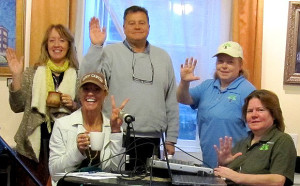 Find out the latest information about our beautiful and happening town of New Bern and Beyond. Beyond, meaning our travels throughout Eastern North Carolina.
Listen to our podcast show here:

During this show, New Bern Now's Podsquad: Laura Johnson, Rich Sheridan, Lisa Bisbee-Lentz, Special Guest – Thea Kincaid and I, highlighted numerous businesses and non-profits in and around New Bern! Susan Moffat-Thomas will be back in two weeks.
This was a special occasion as New Bern Now's Team finally got together in one place as we've been pulled in numerous directions. It was great catching up!
00:44 – Did you know that Thea was on The Oprah Show
1:14 – Find out the upcoming events in February
1:17 – Tryon Civitan Club's 7th Annual Food Drive for the Salvation Army. We also talked about how Mack and Pat, owners of the UPS Store make a difference in our community.
1:57 – New Bern Open Mike Night.
2:09 – The Ledger Magazine – get your copy
2:59 – Charity Event for Journey of Hope Cancer Support Center
3:13 – ARTcrawl and ArtWalk
4:58 – Daddy Daughter Sweetheart Ball
5:15 – Empty Bowls
5:49 – Singing Valentines by the Southern Gentlemen Barbershop Chorus
6:44 – Gloria Morello's Bisqueware Project with Ben Watford
8:00 – Soup a Bowl at the New Bern Farmers Market
8:25 – Texas Tenors Concert coming to New Bern (interview with Kathy Morrison)
9:34 – Orleans Band interview and concert
10:50 – Art Sale for Colorfest Art by Benitez and 12:02 – Night out for the Arts at City Laundry
11:39 – New Bern Arts and Wellness Center
13:14 – Antique Show (interview Rick Lang and Jim Hodges)
15:05 – MacBeth presented by the RiverTowne Players
15:30 – There's a lot to do in New Bern!
16:36 – New Bern Riverfront Convention Center and the Tourism Development Authority
17:01 – Chocolate and Jewelry Day
17:09 – 5K Cupid Crawl for Sickle Cell
17:36 – Peggy Walker Barnes
18:23 – Congratulations, Lynne Harakal, the New Executive Director of Swiss Bear Downtown Development Corporation
18:21 – New Bern Historical Society's looking for New Executive Director
19:44 – Festive Family Concert presented by the Carolina Chamber Music Festival at the New Bern-Craven County Library
20:14 – Simon and Sara Spalding – Tuppence presents Songs of Love and Life
20:32 – Interview with Andrew Huff, new owner of Andrews Auto Shine
21:30 – Kincaid and Purvis Family Dentistry
23:16 – Planning for New Bern Get Your Pink On
23:58 – Barn Bash supporting Promise Place
24:57 – Day Trippin
25:17 – Down East Folk Arts Society Concert with Jeep Rosenberg in New Bern and Beaufort
26:01 – Beaufort Maritime Museum
26:17 – Carolina Chocolate Festival
26:36 – People love the Discovery Map of the Crystal Coast and happy for Rich Sheridan as he's celebrating his 5th Year Anniversary.
28:19 – More upcoming events
30:27 – Congratulations to our friend, Tharesa Lee as she was elected as the Chair of the Board of Directors of the New Bern Area Chamber of Commerce. Tharesa made history as the 1st African American Woman Chair of the Chambers Board of Directors.
These 30 – 45 minute shows are scheduled for every other week and we will post mini-episodes (community segments) that will also air on New Bern's News Talk Radio Station WNOS.
We'll be back on February 15th.
Tune into our latest Podcast episodes and radio interviews on ITunes.
Please let us know if you have any comments, suggestions, or would like to set up an interview and spread the word about a special event or other interesting topic. We look forward to hearing from you!
You can subscribe to New Bern Now and Beyond by pressing the orange Syndication RSS feed located under the calendar: http://newbernnow.libsyn.com/.
Tell us what you think by commenting below or sending us an email. Visit New Bern Now's Facebook page or sign up for daily updates by submitting your email address in the right margin on New Bern Now's website.
Wendy Card