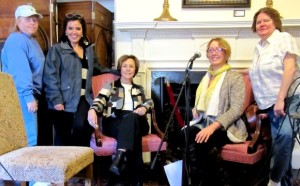 Find out the latest information about our beautiful and happening town of New Bern and Beyond. Beyond, meaning our travels throughout Eastern North Carolina.
Listen to our podcast show here:

During this show, New Bern Now's Podsquad: Laura Johnson, Lisa Bisbee-Lentz, Susan Moffat-Thomas, Special Guest – Anna Bulszewicz and I, highlighted numerous businesses and non-profits in and around New Bern! Susan Moffat-Thomas will be back in two weeks. Rich Sheridan will be back on March 14th.
Show Notes:
1:02 – Attics-Basement-Closets (ABC) Sale presented by the New Bern Historical Society
1:44 – Bi-Annual Book Sale presented by the Friends of the New Bern Library
2:10 – 13th Annual Taste of Coastal Carolina benefiting Sound Rivers
4:34 – Vendor Chili Cookoff at the New Bern Farmers Market
5:05 – Drive through a Blessing Food Drive for RCS
5:30 – Sham-Rockin' St Patrick's Day Celebration presented by the New Bern Noon Rotary Club
7:02 – The Battles for New Bern Reenactment Weekend
7:55 – New Bern Civil War Battlefield
10:14 – I Love That Lady Recognition Dinner and talking about Kim Breile, networking and empowering women in and around New Bern
14:40 – North Carolina Symphony presents Tchaikovsky's 5th Symphony and discussing about the NC Symphony
16:55 – Shakespeare in New Bern Dinner benefiting the English Speaking Union Shakespeare Competition
17:48 – Art Report by Lisa Bisbee: ArtCrawl; City Laundry Café'; New Bern Arts and Wellness Center; Night Out with the Arts; Twin Rivers Artist Association; Accidental Artist Event; Kinston Arts Smart Program; Grant Golden's Gem Productions Company; First Tuesday Open Mike Night; New Bern Wine and Design; and Gloria Morello Bisqueware Project
21:55 – Elks Building in Downtown New Bern
24:40 – Ben Watford: Artist, Potter, Historian, and Slave Quarters Tour Guide
27:33 – Interview with Beth Ellis, Marketing and Gallery Director with the Craven Arts Council at the Bank of the Arts
29:00 – Carolina Creations Fine Art Contemporary Gift Gallery
29:19 – Fine Art at Baxters
29:30 – Interview with Author Brenda Hooks Harris to talk about her upcoming event at Chef and The Farmer
31:55 – Spring is in the air with the New Bern Home and Garden Show and Tryon Palace Gardens
33:35 – Upcoming Events
36:09 – Craven Community College honored "Community Pillars"
36:38 – Daytrippin' in Eastern NC
These 30 – 45 minute shows are scheduled for every other week and we will post mini-episodes (community segments) that will also air on New Bern's News Talk Radio Station WNOS.
We'll be back on March 13th.
Tune into our latest Podcast episodes and radio interviews on ITunes.
Please let us know if you have any comments, suggestions, or would like to set up an interview and spread the word about a special event or other interesting topic. We look forward to hearing from you!
You can subscribe to New Bern Now and Beyond by pressing the orange Syndication RSS feed located under the calendar: http://newbernnow.libsyn.com/.
Tell us what you think by commenting below or sending us an email. Visit New Bern Now's Facebook page or sign up for daily updates by submitting your email address in the right margin on New Bern Now's website.
Wendy Card