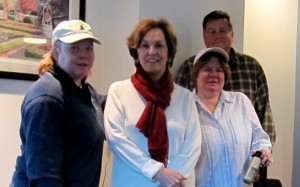 Find out the latest information about our beautiful and happening town of New Bern and Beyond. Beyond, meaning our travels throughout Eastern North Carolina.
Listen to our podcast show here:

During this show, New Bern Now's Podsquad: Laura Johnson, Rich Sheridan, Susan Moffat-Thomas and I, highlighted numerous businesses and non-profits in and around New Bern!
Special thanks to Mike Afflerbach, owner of New Bern's News Talk Radio Station WNOS 107.5FM and 1450AM for letting us record today's episode!
Show notes:
00:53 – Recap of the New Bern Antique Show and Sale presented by the New Bern Preservation Foundation
4:31 – Tryon Civitan Club's Food Drive for the Salvation Army interview with Mack Paul
5:27 – New Bern Historical Society's ABC (Attic-Basement-Closet) Sale
7:14 – Are you giving anything up for Lent? Donate 40 items in 40 days
8:31 – Free Horticultural Workshops – Craven County Cooperative Extension
9:50 – New Bern Heart Ball
10:50 – 21st Annual Train Show – Carolina Coastal Railroaders
12:35 – 7th Annual Gala for the Eastern Carolina Aviation Heritage Foundation
13:15 – Texas Tenors presented by the New Bern Historical Society
14:11 – Sham-Rockin' St. Patrick's Celebration by the New Bern Rotary Club
16:32 – Upcoming Events
18:11 – DayTrippin' with Rich Sheridan, Discovery Map of the Crystal Coast
20:48 – US Coast Guard Auxiliary Boating Basics Course and Boat Safety
23:26 – PRAXIS Film Festival in Goldsboro
These 30 – 45 minute shows are scheduled for every other week and we will post mini-episodes (community segments) that will also air on New Bern's News Talk Radio Station WNOS.
We'll be back on February 29th.
Tune into our latest Podcast episodes and radio interviews on ITunes.
Please let us know if you have any comments, suggestions, or would like to set up an interview and spread the word about a special event or other interesting topic. We look forward to hearing from you!
You can subscribe to New Bern Now and Beyond by pressing the orange Syndication RSS feed located under the calendar: http://newbernnow.libsyn.com/.
Tell us what you think by commenting below or sending us an email. Visit New Bern Now's Facebook page or sign up for daily updates by submitting your email address in the right margin on New Bern Now's website.
Wendy Card