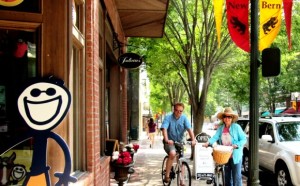 29th: Winterfest: Oysters, Brews, and Comfort Foods, 5:30pm – 8:30pm, Bate Commons, Mattocks Hall, North Carolina History Center. Call 252-639-3500.
29th: Explorations in The Arts: David Holt and Josh Goforth, 7:30pm – 9:00pm in the Orringer Auditorium at Craven Community College. Call 252-638-7351.
29th: Emily Musolino and Trio performance at Mickey Milligan's at 10:00pm. Presented by GEM Productions.
30th: Personal Finances Workshop Facilitated by Dave Garret, 9:00am – 11:00am  presented by the Twin Rivers Vineyard Church. Call 717-575-4664.
30th: 1st Walk the Waterfront Adopt-A-Thon, 11:00am – 2:00pm at Union Point Park. Presented by the Colonial Capital Humane Society. Call 252-633-0146.
30th: Ninth Annual Local Authors Luncheon, 11:30am at the Chelsea Restaurant. Sponsored by the American Association of University Women (AAUW). Call 252-637-9499.
30th: At the Gallery: Harry Warren, 7pm, Bank of the Arts. Call 252-638-2577
What are you doing this weekend?
Tell us what you think by commenting below or sending us an email. Visit New Bern Now's Facebook page or sign up for the latest updates by submitting your email address in the right margin on New Bern Now's website.
Wendy Card