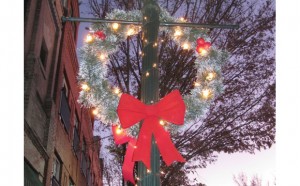 11th: Salvation Army Christmas Food Drive, 4:00pm – 8:00pm at Joe Alcoke's Auto Center.
11th: ArtWalk throughout Downtown New Bern, 5:00pm – 8:00pm, presented by the Craven Arts Council at the Bank of the Arts. 252-638-2577.
11th: ArtCrawl presented by the Community Artist Will, 5:00pm – 8:00pm at the Isaac Taylor House and Gardens and various locations in Downtown New Bern. Call 252-649-1712.
11th: ArtWalk and Author Meet and Greet, 5:00pm – 8:00pm at the Next Chapter Book Store, 320 S. Front St. Call 252-633-5774.
11th: Celtic Christmas Concert with Patrick Mangan from Riverdance, 7:30pm at Craven Community College.
12th: Christmas Countdown at the New Bern Farmers Market, Sat: 8:00am – 2:00pm and Tues: 10:00am – 2:00pm. Call 252-633-0043.
12th: 3rd Annual Craven Smart Start Holiday Hustle, 8:00am, Union Point Park.Call 252-671-0689.
12th: Annual Pancake Breakfast Fundraiser, 6:30am and 10:00am at Morgan's Tavern and Grill. Presented by the MERCI Clinic. Call 252-633-1599.
12th: Cookie Walk, 10:00am – 1:00pm at 311 Middle St. Call 252-631-1111 or 708-267-2672.
12th:  17th Annual "The Holly & The Ivy" Holiday Homes Tour, 10:30am – 3:30pm presented by the New Bern Womans Club. Call 252-638-3623.
12th: 35th Annual Candlelight Christmas Celebration, 4:30pm – 9:30pm at the Governor's Palace, Historic Grounds, Commission House, Stanly House, and Dixon House. Call 252-639-3500.
12th: Enjoy Festive Evening of Hayrides, Caroling, and Christmas Traditions, 5:30pm at The Twin Rivers YMCA parking lot. Call 252-288-5663.
12th – 13th: "The Bear City Opry Christmas Show", Sat: 7:00pm and Sun: 2:00pm at the New Bern Civic Theatre. Call 252-633-0567.
12th – 13th: The Nutcracker presented by the New Bern Ballet, Sat: 7:00pm; Sun: 2:00pm at West Craven High School, 2600 Streets Ferry Rd., Vanceboro. Call 252-633-5800.
13th: Santa's visiting Craven Animal Hospital for Pet Photos, 1:00pm – 3:00pm at Craven Animal Hospital. Donations benefit the Colonial Capital Humane Society. Call 252-637-4541.
13th: Sledding Shopping Sunday from 1:00pm – 4:00pm.
Tell us what you think by commenting below or sending us an email. Visit New Bern Now's Facebook page or sign up for the latest updates by submitting your email address in the right margin on New Bern Now's website.
Wendy Card