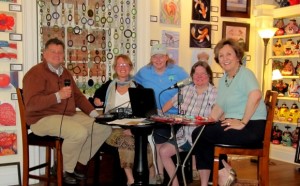 Find out the latest information about our beautiful and happening town of New Bern and Beyond. Beyond, meaning our travels throughout Eastern North Carolina.
Listen to our podcast show here:

During this show, New Bern Now's Podsquad: Laura Johnson, Susan Moffat-Thomas, and Lisa Bisbee-Lentz and I, highlighted numerous businesses and non-profits in and around New Bern! Rich Sheridan will be back soon.
Show notes:
00:25 – Spotlight on Christmas Festivities
3:45 – Downtown New Bern
4:58 – John and Betty Foy, owners of the Meadows Inn asked us what's happening in New Bern on New Years Eve. Find out what's happening on New Year's Eve Downtown and around New Bern!
8:37 – If you have too much to drink, you can call: A to Z Car Transportation (259-7763); Shuttle Me Transportation (637-7433); New Safeway Taxi (636-9000); Uber of New Bern (617-1795);
10:10 – House moved, renovated, and donated to the New Bern Historical Society
13:36 – Sims Scrap Yard and Recycling Center Closed
15:45 – New Bern Academy Museum, Tryon Palace, and the North Carolina History Center
17:14 – Tryon Palace's Winterfest: Oysters, Brews, and Comfort Foods
18:03 – Jeremy LeRay stops by with his son Joshua and Foreign Exchange Student, Edu, from the Canary Islands
22:06 – Isaac Taylor visits from beyond the grave
22:26 – We can podcast from your business or non-profit, "Have Microphones, will travel"
23:30 – Have your wedding in the Isaac Taylor Gardens
27:26 – Support our local Artists
27:50 – Interview with Beth Ellis, Marketing and Gallery Director of the Craven Arts Council at the Bank of the Arts
30:00 – Interview with Dr Bobbi Kobtra at Craven Animal Hospital about Pet Insurance
These 30 – 45 minute shows are scheduled for every other week and we will post mini-episodes (community segments) that will also air on New Bern's News Talk Radio Station WNOS.
The next episode will publish on Monday, January 4th, 2016.
Tune into our latest Podcast episodes and radio interviews on ITunes.
Please let us know if you have any comments, suggestions, or would like to set up an interview and spread the word about a special event or other interesting topic. We look forward to hearing from you!
You can subscribe to New Bern Now and Beyond by pressing the orange Syndication RSS feed located under the calendar: http://newbernnow.libsyn.com/.
Tell us what you think by commenting below or sending us an email. Visit New Bern Now's Facebook page or sign up for daily updates by submitting your email address in the right margin on New Bern Now's website.
Wendy Card