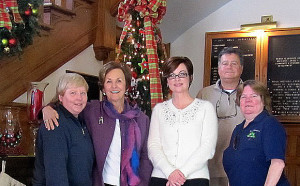 Find out the latest information about our beautiful and happening town of New Bern and Beyond. Beyond, meaning our travels throughout Eastern North Carolina.
Listen to our podcast show here:

During this show, New Bern Now's Podsquad: Rich Sheridan, Laura Johnson, Susan Moffat-Thomas, and Special Guest, Colleen Roberts, Public Information Officer for the City of New Bern and I, highlighted numerous businesses and non-profits in New Bern all the way to the Crystal Coast along with upcoming events!
Show notes timeline:
00.33 – New Bern Civil War Battlefield Sign
1:07 – City of New Bern Community Christmas Tree at the roundabout at E. Front and Craven Streets
1:20 – Community joins forces to decorate and celebrate Christmas and Holiday Season
6:12 – City License Plates with New Bern's Coat of Arms
10:13 – Christ Episcopal Church Cookie Walk
10:43 – Tryon Palace Candlelight Christmas Celebration
11:32 – Toy Exhibit at the North Carolina History Center (Podsquad talks about old toys and games)
14:41 – City of New Bern Street Renovations (Sidewalks and Bike paths)
16:10 – Carolina East Health System
18:00 – Giving Tuesday, Non-profits, and Businesses
18:23 – Outdoor Outfitter or Bait and Tackle Store
18:46 – Craven Animal Hospital photos with Santa benefiting the Colonial Capital Humane Society
19:17 – The Games Afoot: Harry Harvey interview with Laura Johnson
20:59 – New Bern Civitan Club fresh cut Christmas Tree and Wreathe Sales
22:51 – Bear Plaza Success Story
25:30 – Volunteer to be "The Grinch" year-round
27:56 – Day Trippin' with Rich Sheridan in Eastern North Carolina (Santa by the Sea; Beaufort Holiday Artwalk and Historic Beaufort Candlelight Homes Tour; and the Beaufort Maritime Museum)
29:27 – Upcoming Events and Beary Merry Christmas (Special thanks to Amanda Banks, AG Salem and Associates, Downtown Merchants, and all the volunteers for all of your hard work in bringing Christmas to Downtown New Bern. For more information about the holiday festivities, visit BearyMerryChristmas.com.)
33:06 – Interview with Laura Norment, Co-race Director for the Jingle Bell Trot 5K Run/Walk and 1 Mile Fun Run
These 30 – 45 minute shows are scheduled for every other week and we will post mini-episodes (community segments) that will also air on New Bern's News Talk Radio Station WNOS.
The next episode will publish on Monday, December 21st.
Tune into our latest Podcast episodes and radio interviews on ITunes.
Please let us know if you have any comments, suggestions, or would like to set up an interview and spread the word about a special event or other interesting topic. We look forward to hearing from you!
You can subscribe to New Bern Now and Beyond by pressing the orange Syndication RSS feed located under the calendar: http://newbernnow.libsyn.com/.
Tell us what you think by commenting below or sending us an email. Visit New Bern Now's Facebook page or sign up for daily updates by submitting your email address in the right margin on New Bern Now's website.
Wendy Card