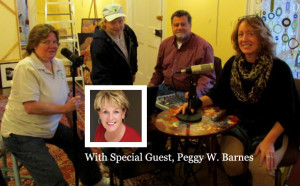 Find out the latest information about our beautiful and happening town of New Bern and Beyond. Beyond, meaning our travels throughout Eastern North Carolina.
Listen to our podcast show here:

During this show, New Bern Now's Pod Squad: Lisa Bisbee Lentz, Rich Sheridan, Laura Johnson, Special Guest, Peggy W. Barnes also known as the DeClutter Bug and Keep it Simple Girl, and I, highlighted numerous businesses and non-profits in New Bern all the way to the Crystal Coast along with upcoming events!
The show included:
6:20 – Snow coming to Bear Plaza and BearyMerryChristmas.com
7:37 – Shop Local
8:14 – Seniors for Santa Tree
9:00 – The Country Biscuit Thanksgiving: Community comes together for those less fortunate.
10:49 – Salvation Army Food Drive at Joe Alcoke's
11:30 – Fundraiser for James City Historical Society
12:18 – ArtCrawl and ArtWalk
12:58 – Lou's Florist Closing
13:23 – Bear Towne Java changes hands as The Sweet Peas Café opens
13:56 – Brewery 99
15:04 – Events at Tryon Palace and the North Carolina History Center
16:09 – New Bern Farmers Market "It's an experience" – Peggy W Barnes
17:24 – Small Business Roundtable and Craven Community College
19:55 – Christmas Flotillas and Parades
21:10 – Southern Chateau Florist and Floral Designer
22:30 – Croatan National Forest, take a walk in the woods
23:26 – Day Trippin' in Eastern NC
24:50 – Mike's Farm
26:17 – Fresh Cut Christmas Tree locations
26:52 – Upcoming Events in and around Town
Community Shout-outs:
29:20 – April King from the Craven Literacy Council
30:43 – Kim Briele, Founder of I Love That Lady Event
32:10 – Erin Smith, owner of Photography by Erin Smith
33:48 – Donna Harmatuck, Team New Bern with Keller Williams
35:07 – Sara Baxter, owner of Tranquil Dog
These 25 – 45 minute shows are scheduled for every other week and we will post mini-episodes (community segments) that will also air on New Bern's News Talk Radio Station WNOS.
The next episode will publish on Monday, December 7th.
Stay tuned for future episodes as we'll talk about local happenings, entertainment, arts, history, outdoor life, healthy living, beauty, social media, non-profits, businesses and much more!
Please let us know if you have any comments, suggestions, or would like to set up an interview and spread the word about a special event or other interesting topic. We look forward to hearing from you!
You can subscribe to New Bern Now and Beyond by pressing the orange Syndication RSS feed located under the calendar: http://newbernnow.libsyn.com/.
Tell us what you think by commenting below or sending us an email. Visit New Bern Now's Facebook page or sign up for daily updates by submitting your email address in the right margin on New Bern Now's website.
Wendy Card