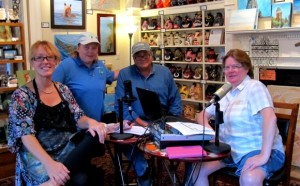 Find out the latest information about our beautiful and happening town of New Bern and Beyond. Beyond, meaning our travels throughout Eastern North Carolina.
Listen to our podcast show here:

We're happy to announce that our Podsquad, Laura Johnson, Lisa Bisbee-Lentz, Susan Moffat-Thomas, Wendy Card and Rich Sheridan are on iTunes!
During this episode we talked about all kinds of things from arts, history, entertainment, MUMFEST, business, non-profits, and much more!
Here's a summary and timeline in case you don't have time to listen to the entire podcast:
2:12 – Artcrawl and Artwalk; City Potters; City Laundry; Stardust Gallery; Red Shoe Gallery; Brewery 99; and all about arts!
5:30 – Handbell Musicians of America; Tryon Civitan Club's Peanut Butter Drive; Bryan Mayer; Live2Lead Leadership Development Experience; Fall Festival at Bright Star Farm; and the Craven County Household Hazardous Waste Collection Event.
10:16 – MUMFEST; Tryon Palace events; First Tee ENC Golf Tournament; New Bern Fireman's Museum; Moore's BBQ; Run for the MUMS 5K benefiting the Coastal Women's Shelter; Spaghetti Dinner benefiting the Special Olympics; 50 Years of Head Start Community Celebration; and Leadership Craven Alumni Association Golf Tournament.
14:56 – Havelock Chili Festival; Lunch and Learn at NC History Center; Swansboro 61st Annual Mullet Festival; and Daytrippin' with Rich Sheridan of the Discovery Map of the Crystal Coast!
18:00 – New Bern Now's Partners and ways we can promote your business, non-profit, and events; New Bern Get Your Pink On and Events; New Bern Sun Journal; Metastatic Breast Cancer Advocate, Beth Fairchild; and Thea Kincaid of Thea's Ideas, Founder of New Bern Get Your Pink On.
21:44 – 11th Annual Neuse River Bridge Run; New Bern Historical Society's "Un-Modern Family" 25th Annual Ghostwalk; Ghosts of New Bern Tours; Ghosts at the Isaac Taylor House; Author Karen Dodd; Cabaret Evening benefiting the Coastal Coalition for Substance Abuse Prevention; Trent River Coffee Company benefiting the Down East FolkArts Society; Teacher Workday presented by the Craven County Recreation and Parks and Sports Nation; and the Grand Parenting Café presented by the Community Coalition for Craven County Children.
25:46 – Warm Fuzzies and Cold Pricklies book; Knit Happens Community Group; The Salty Sheep Store; Weaver's Webb Shop; and the New Bern Farmers Market.
These 25 – 45 minute shows are scheduled for every other week and we will post mini-episodes (community segments) that will also air on New Bern's News Talk Radio Station WNOS.
The next episode will publish on Monday, October 19th.
Stay tuned for future episodes as we'll talk about local happenings, entertainment, arts, history, outdoor life, healthy living, beauty, social media, non-profits, businesses and much more!
Please let us know if you have any comments, suggestions, or would like to set up an interview and spread the word about a special event or other interesting topic. We look forward to hearing from you!
You can subscribe to New Bern Now and Beyond by pressing the orange Syndication RSS feed located under the calendar: http://newbernnow.libsyn.com/.
Tell us what you think by commenting below or sending us an email. Visit New Bern Now's Facebook page or sign up for daily updates by submitting your email address in the right margin on New Bern Now's website.
Wendy Card