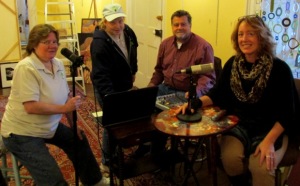 Listen to our latest episode of NBN and Beyond's podcast show!

Find out the latest information about our beautiful and happening town of New Bern and Beyond. Beyond, meaning our travels throughout Eastern North Carolina.
During this show, New Bern Now's Pod Squad: Laura Johnson, Lisa Bisbee Lentz, Rich Sheridan, and I highlighted numerous businesses and non-profits in New Bern all the way to the Crystal Coast.
Arts around Town:
Artcrawl and Artwalk events in and around town; Lawyers without Rights; Carolina Chamber Music Festival at the Bank of the Arts; Bohemian Wednesdays in the Isaac Taylor Garden; The Complete Book of Fussing and Nagging by Ben Watford; MUMFEST T-shirts available at Mitchell Hardware; Color Me Calm at Bear Towne Java; and The Fearless Freaks band member goes on Jeopardy Game Show.
Outdoor Life:
How to start a fire; How to get rid of bugs on tomato plants; Gardening tips and Garden Tour by the NC Cooperative Extension at Craven County Center at the Ag Building; Coastal Environmental Partnership has compost that's called "Coastal Grow". It's available in bulk for $30.00 per ton. Call 252-633-1564; If you have a pecan tree, Mitchell Harware has a pecan roller to collect them; Tickling Your Taste Buds by Pickling presented by the River Bend Community Organic Garden; and Craig Brake Memorial Colors 4 Cancer 5K.
Invention Ideas:
Drone for the Lifeguard to help prevent shark attacks and Foot pedal that saves grey water in Cistern.
Business News:
Sew What; Pinecone Home and Garden event for Coastal Coalition for Substance Abuse; Make Connections and Grow Your Business with the New Bern Referral Network; New Bern Farmers Market; New Bern Women's Expo; Women's Leadership Speaker Series presented by the Eastern Carolina Economics Club; Lisa Showman's Micro-greens.
Non-profit news:
Bike MS Historic New Bern Ride; Simply Southern Brunch Presented by New Bern Get Your Pink On; United Way of Coastal Carolina Kickoff Campaign and Day of Caring; Craig Brake Memorial Colors 4 Cancer 5K; Havelock Police Department is partnering with the Coastal Women's Shelter for a Zumbathon; Shopping Trip to the Smithfield Outlets; Flags of Hope Workshop; Coastal Women's Shelter Night To Remember – 30th Anniversary Bash; and the New Bern String Fling Gala and Auction.
Sports:
The New Bern Karate School of Martial Arts and New Bern Bushido School of Arts.
History:
Craven County Genealogical Society's "Ancestor Show and Tell" and "North Carolina Civil War History Center". Lunch and Learn: "Women on the Home Front during the Civil War"; Tryon Palace events: Author Linda Monk for Lecture and Book Signing; Tryon's Explorers: Life is a Garden, Stanley Kubrick's 'Paths of Glory'; How North Carolina Saved the Constitution; Voices from the Harlem Renaissance; Governor's Challenge Cornhole Tournament; Fall Festival and Lunch and Learn – A Visit with the Dixons.
Entertainment:
Simple Techniques for Drastic Guitar Playing Improvement; Spook Handy in Concert; and a Barn Bash at the Batten Farm.
Day Trippin' with Rich Sheridan of the Discovery Map of the Crystal Coast:
Cycling for the Coast by the North Carolina Coastal Federation; 1st Crystal Coast Stand Up Paddle Board Event; Kayak Fishing Class by the NC Maritime Museum; New Emerald Isle Welcome Center; The 6thh Annual Jones County Heritage Festival; and The Cove City Family Day and Open Car and Truck Show.
The next episode will publish on Monday, September 21st.
Stay tuned for future episodes as we'll talk about local happenings, entertainment, arts, history, outdoor life, healthy living, beauty, social media, non-profits, businesses and much more!
Please let us know if you have any comments, suggestions, or would like to set up an interview and spread the word about a special event or other interesting topic. We look forward to hearing from you!
You can subscribe to New Bern Now and Beyond by pressing the orange Syndication RSS feed located under the calendar: http://newbernnow.libsyn.com/.
Tell us what you think by commenting below or sending us an email. Visit New Bern Now's Facebook page or sign up for daily updates by submitting your email address in the right margin on New Bern Now's website.
Wendy Card