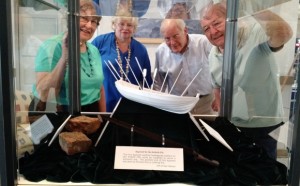 Historical Society Places Artifacts on Display
New Bern Historical Society Curator, Jim Hodges and his team were busy at work recently on a new display in the Coastal Carolina Regional Airport.
The first of a two-part installation went in with many interesting artifacts from the Battle of New Bern.  There is a fragment of a shrapnel shell, burst open, so you can see the interior.  Also in the collection is a large chip cut from a tree two months after the battle.  This chip has a bullet still lodged in it.  The tree had over 30 bullet holes.  There is a map drawn one month after the battle showing positions of the troop. Also on display is a scale model of a surfboat like those used by Burnside's troops in making their historic amphibious landing at Slocum Creek prior to the battle. The model, built by John Klecker, is on loan. These and other items provide a time travel connection to those who were in New Bern over 150 years ago.
The Curator Team of Jim Hodges, Jan Beijer, Betty Evans, Jane Dagnon and Claudia Houston selected these items from the New Bern Historical Society's collection of Civil War artifacts.  The Society houses a New Bern Collection dating from the late 18th century into the 20th.  Many items are on display at the Attmore Oliver House at 511 Broad Street where the display is open to the public.
The second part of the airport project will be completed by the end of August.  In the meantime visitors and current air travelers can get a glimpse into New Bern's past as they wait on their 21st century transportation.
For more information contact the New Bern Historical Society at 252-638-8558 or go to www.NewBernHistorical.org or www.Facebook.com/newbernhistoricalsociety  to see more photos.
Submitted by: