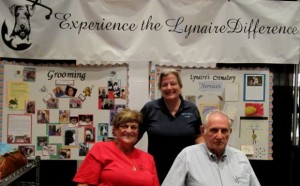 We had a great time catching up with friends and meeting new ones at The Greater New Bern Business Expo today!
It's a terrific opportunity for our community to support our local businesses and non-profits as they are the backbone that holds our community together!
Special thanks to the New Bern Area Chamber of Commerce and all the businesses, non-profits, volunteers and the staff at the New Bern Riverfront Convention Center! You put on a great show.
Visit the New Bern Area Chamber of Commerce's  website and Facebook page to see more photos, learn about our local resources, and find out the benefits of being a member.
Although we didn't have time to make it to all of the booths, here's the pictures of the  ones we did visit. If you're viewing on your smartphone or small tablet, you may receive an error because the file is too large. You you can view the pictures on your computer. We're working on the problem.
Tell us what you think by commenting below or sending us an email. Visit New Bern Now's Facebook page or sign up for the latest updates by submitting your email address in the right margin on New Bern Now's website.
Wendy Card