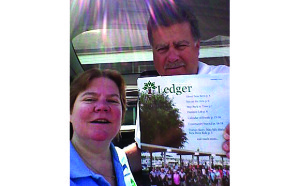 If you'd like a hard copy of New Bern Now's quarterly magazine (July – Sept), they are available at the following locations:
A-1 Fire and Safety Company; The Accidental Artist; The Aerie Bed and Breakfast and Conference Center; Amici Hair Salon and Spa; Atomic Cycles; B & J Seafood; Bear Towne Java; Bridgepointe Hotel; Candlewood Suites; Carolina Colors; Carolina Creations; Coastal Carolina Regional Airport and Car Rentals; Coldwell Banker Real Estate; Comfort Suites; Courtyard Marriott; Cow Café; Craven Animal Hospital; Craven Physical Therapy and Spine; Croatan Village; Crystal Coast Pain Management; DoubleTree by Hilton; Fairfield Harbour; New Bern Farmers Market; Fine Art Baxters; Flythes Bike Shop; Hampton Inn; Hanna House Bed and Breakfast; Havelock Chamber; New Bern Historical Society; North Carolina History Center; Home Place of New Bern; Isaac Taylor House and Gallery; Keller Williams Realty; Kincaid Family Dentistry; New Bern KOA; Laundromat on Glenburnie; Lynnaire Kennels; McCarthy Square Pharmacy; Meadows Inn; Mitchell Hardware; New Bern Chamber; Paula's Pizza and Italian Restaurant; Pollock-Best Funerals and Cremations; Poor Charlies Antique and Flea Market; Realo Drug on Commerce Drive; SpringHill Suites; Studio Verve; The Chelsea; The Four C's; The Waystation at Tryon Palace; Thurman Road Auto Service; Trent River Reality – Tourist information; Trent River Coffee Company; Twice as Nice Consignments; The UPS Store of New Bern; and The Ziegler Motel are only some of many places where you can pick up your copy in and around town.
We hope that you enjoy New Bern Now's Ledger magazine. It's also available online here.
Special thanks to our contributors, advertisers, and sponsors. I'd also like to thank Sharon Arthur and Tommy Tilghman of Griffin-Tilghman Printers for their terrific service. I really appreciate Laura Johnson and Rich Sheridan (owner of Crystal Coast Discovery Map) for delivering the Ledger!
If you'd like to distribute hardcopies, please contact us via email or give us a call at 252-638-6858 and we will add you to our distribution list.
Tell us what you think by commenting below or sending us an email. Visit New Bern Now's Facebook page or sign up for the latest updates by submitting your email address in the right margin on New Bern Now's website.
Wendy Card