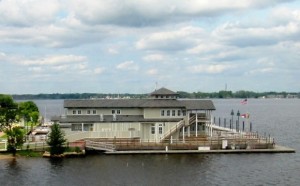 Persimmons Restaurant, a popular waterfront dining destination in New Bern, has hired nationally-acclaimed and award-winning chef Kirsten Mitchell as its new executive chef. Mitchell will oversee all aspects of food service, including menu creation and the sourcing of ingredients.
A third-generation chef taking after her father and grandfather, Mitchell grew up in the restaurant business. Mitchell spent the first 18 years of her life learning the culinary ropes from her dad in the mountains of North Carolina. She describes her training growing up as "French-style, classic, with a lot of other styles mixed in."
Mitchell got her start in her family's Banner Elk restaurant before moving to Wilmington to continue her career. In Wilmington, Mitchell was the head chef at a popular tapas style restaurant and also purchased her own food truck, Vittles, which she continues to own and operate today with the help of family and staff. In 2012, Mitchell was named one of top 100 chefs in the country by Food & Wine Magazine and was a finalist for its People's Best New Chef award. In 2014, Mitchell competed and earned second place in Got to Be N.C.'s Fire on the Dock, an Iron Chef-type food battle, pitting the coast's top chefs against each other.
"We're thrilled to have Kirsten on board," said Dean Quadir, general manager at Persimmons. "She brings a wealth of experience and a dedication to simple, delicious food using the highest quality local ingredients. We're looking forward to the future of Persimmons with Kirsten at the helm."
In her new role at Persimmons, Mitchell says the focus will be on fresh, seasonal ingredients with about 90 percent of menu items, from fish to hot sauce, being sourced locally. Mitchell anticipates the menu changing about four times a year, to represent the best available produce each season.
"Our vision for Persimmons is for it to be a relaxing waterfront dining experience with fresh and focused local seafood and other menu items," said Mitchell. "We want Persimmons to be accessible to everyone – families, locals, visitors – and want to provide that fun, vacation-like feel while serving excellent food."
Persimmons is open for lunch and dinner Tuesday through Sunday. Reservations can be made by calling 252-514-0033 or by visiting www.persimmonsrestaurant.com.
About Persimmons: Persimmons Waterfront Restaurant, located in historic, downtown New Bern, N.C., offers waterfront views of the Neuse River with an elegant yet casual atmosphere and fresh, modern dishes made from locally-sourced ingredients. At Persimmons, expect the friendliest service around, excellent food and drinks from our award-winning chef, and a spectacular view from three distinct dining areas: our downstairs great room, our private upstairs dining area, or our beautiful waterfront deck.
Olivia L. Boddie, Rick Rountree Communications