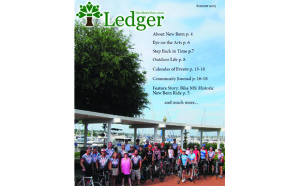 Check out the Summer edition of the Ledger Magazine! Who knows, you, your business or non-profit may be in it!
We're really happy to announce that the July – September Ledger is available online! The print edition will be available soon!
Since the Bike MS: Historic New Bern Ride is in September, we asked Atomic Cycles and Flythe's Bike Shop riders to join us at the DoubleTree by Hilton in New Bern for the cover shoot. Since we aren't cyclists, we really appreciate Sarah Merritt, their Manager of Public Relations and Marketing, and Kara Podraza of the National Multiple Sclerosis Society for sharing information about the upcoming ride for our cover story.
Special thanks to everyone who contributed to the Ledger! We consider it "The People's Magazine" as a lot of the information comes from people who live here. We couldn't print the Ledger without the help from our loyal Sponsors. We truly appreciate your support!
We hope you enjoy New Bern Now's 3rd Quarter Ledger as it's filled with all kinds of information, including "About New Bern, Editor's Letter, Arts, History, Outdoor Recreation, Calendar of Events, Shopping, Dining, Community Notes, and much more!
Special thanks to our sponsors for their support! Without them, we couldn't afford to print this 20 page publication distributed at the Airport and numerous locations throughout the Greater New Bern area and beyond.
Please feel free to share your thoughts and feedback with us!
Special thanks to Griffin & Tilghman Printers as Sharon Arthur and Tommy Tilgman do a wonderful job printing the hardcopies of the Ledger.
The Ledger magazine will be available in print soon, we'll keep you posted.
Tell us what you think by commenting below or sending us an email. Don't forget to visit New Bern Now's Facebook Page!
Thank you,
Wendy Card