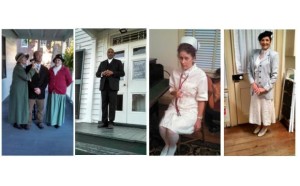 Ghostwalk Auditions – August 13
The New Bern Historical Society is on a ghost hunt.  They are seeking both veteran and new ghost actors to portray characters in this year's Ghostwalk, Un-Modern Family.  Ghostwalk brings to life historic characters from New Bern's past right in the very locations they may have been seen.
Lynne Harakal, Executive Director, is looking for volunteers, both men and women, ages 18 and up to play the phantom roles, "We'd like actors who are interested in this fun and exciting event, and who can give the time for the event's three days". Auditions will be held August 13, 2015 at 7:00pm at the Attmore-Oliver House.  Ghostwalk will take place the evenings of October 22-24.
If you are interested in participating in one of New Bern's premier events as one of the ghostly specters from the past, call or email the New Bern Historical Society office at 252-638-8558.
Submitted by: Kathy Morrison, New Bern Historical Society