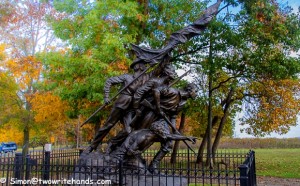 Are you planning a family get-away this summer? Do you enjoy immersing yourself in history, but know that the majority of the clan would rather do anything else? Take them to Gettysburg, PA, and you'll be everyone's hero.
1. Gettysburg is a treasure-trove of Civil War history, thanks to the pivotal three-day battle that raged there in July 1863. Not to mention Abraham Lincoln's famous Gettysburg Address later that year.
There are several ways to tour the battlefield; by bus, with a Licensed Battlefield Guide driving your car, you driving your car with an audio tour, on scooters, on horseback and in a horse-drawn carriage.
The area abounds with museums and restored buildings, each with its own unique story.
A must-see is the Gettysburg National Military Park Museum and Visitor Center, a 139,000-square-foot facility containing 11 state-of-the-art exhibit galleries. Civil War era weapons and uniforms are on display, along with other artifacts.
The Cyclorama painting, as seen from the perspective of Union troops on Cemetery Ridge, comes to life via a powerful narrative.
2. Outdoor activities include picturesque hiking and biking trails, as well as several golf courses. Enjoy fresh air activities for every age and fitness level.
3. For the little ones, there is the Children's museum, an interactive experience for youngsters 3-8. Go carts, miniature golf and video arcades will keep older children entertained. And there are two zoos, as well as Mister Ed's Elephant Museum & Candy Emporium that boasts of 10,000 elephants, a unique gift shop and an enormous candy display.
4. Shopaholics can browse antique stores, shop for gifts and raid the outlets. The Amish Market in Hanover, a short 17 miles from Gettysburg, will keep the most ardent shopper busy, delighting in handmade items such as furniture, candles, bird feeders and other crafts, as well as fresh produce and scrumptious prepared foods.
5. Discover the agricultural aspects of the area by taking a leisurely drive along the Gettysburg Wine and Fruit Trail.
Take a tour at one or more of the area's wineries. You can sample and purchase wines on the grounds, or at one of the tasting rooms located in the town of Gettysburg.
Definitely worth a visit is Reid's Orchard & Winery, you can experience delicious Tuscan-style reds and familiar whites. Reid's also produces several fruit wines and some interesting hard ciders.
Also, the fresh-picked seasonal fruits available from orchard markets make for a succulent and healthy indulgence.
6. Gettysburg has much to offer for those who enjoy exploring on foot. If you fancy prowling the night seeking spirits, other than the liquid variety, there are several tours and supernatural investigations available.
Well worth the time and goosebumps is The Ghosts of Gettysburg Candlelight Walking Tour, a two-hour venture into the unexplained led by a most entertaining and knowledgeable guide, bearing a lantern to light the way. Walk historic streets to buildings and sites while you listen to hair-raising tales of hauntings and strange apparitions.
7. Gettysburg area restaurants and bakeries produce mouth-watering edibles to suit every taste and budget; from fine dining to traditional local fare. Try the sausage, pirogies and sauerkraut, along with some local beer at the Appalachian Brewing Co.
Your family can pursue individual interests during the day, then gather for dinner. Guaranteed, there will be no shortage of conversation, as each one tells about his or her perfect day in Gettysburg.
This article was made possible in part through the generosity of Destination Gettysburg and its members. All opinions, however, are entirely my own.
By Contributing Author, Penny Zibula, Six Legs Will Travel