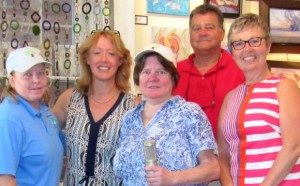 Listen to our latest podcast episode of NBN and Beyond. We think this is the most informative and fun-filled show so far!

Find out the latest information about our cozy and happening town of New Bern and Beyond. Beyond, meaning our travels throughout Eastern North Carolina.
During this show, New Bern Now's Pod Squad: Laura Johnson, Lisa Bisbee Lentz, Rich Sheridan, and Susan Moffat-Thomas. Jane Maulucci aka "The Reactive Voice" joined us as our special guest.
We highlighted numerous businesses and non-profits in New Bern all the way to the Crystal Coast.
We covered all sorts things…listen to find out if we talked about you, your business, or non-profit!
Segments included talk of the town; people making a difference; day trippin' in Eastern North Carolina; upcoming events; and The Wrap Up.
This show's guests were Kim Hess, Executive Director of the Journey of Hope Cancer Support Center; Amy Jo Edwards, Executive Director of Healing Ceilings; and Local Authors, Leslie Tall Manning and Jay Peyton Manning.
These 25 – 30 minute shows are scheduled for every other week and we will post mini-episodes (community segments) that will also air on New Bern's News Talk Radio Station WNOS 97.1FM and 1450AM.
We changed our podcast schedule to every other Monday (vs. Friday) so the next episode will publish on Monday, June 15th.
Stay tuned for future episodes as we'll talk about local happenings, entertainment, arts, history, outdoor life, healthy living, beauty, social media, non-profits, businesses and much more!
Please let us know if you have any comments, suggestions, or would like to set up an interview and spread the word about a special event or other interesting topic. We look forward to hearing from you!
You can subscribe to New Bern Now and Beyond by pressing the orange Syndication RSS feed located under the calendar: http://newbernnow.libsyn.com/.
Tell us what you think by commenting below or sending us an email. Visit New Bern Now's Facebook page or sign up for daily updates by submitting your email address in the right margin on New Bern Now's website.
Wendy Card