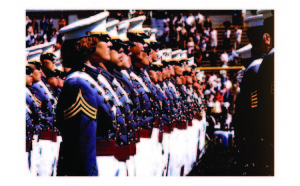 Wednesday, May 13, 2015 at The Chelsea Restaurant
Laura Johnson interviewed Kathy Morrison with the New Bern Historical Society to find out more about their upcoming Women at West Point Lunch and Learn. Listen to the radio interview aired on New Bern News Talk Radio WNOS 97.1FM and 1450AM. You can also hear the interview online on NBN's Libsyn page:

Congress authorized the admission of women to the federal service academies in 1975. West Point admitted its first 119 female cadets in 1976. Before those first female cadets arrived, Lt. Col. Ret. Sarah Parker Smith, MS, LD, RDN, was the only female officer at West Point. On Wednesday May 13, 2015, she'll share some of her experiences and how it was that women came to take their place in today's military.
Originally from Raleigh, Sarah received her commission in the Army upon graduation from college. Her twenty-four years of service was as a dietitian, both active duty and reserve. She was the dietitian to the United States Military Academy during the preparation for the initial entry of women to West Point. During that assignment she was featured in Ladies Home Journal, The Philadelphia Inquirer and The National Enquirer on the subject of "Diet and Exercise at West Point". Years later her final assignment was a Reserve assignment with the admissions department as an admission liaison officer.
Sarah has lived in much of the United States and Japan where she was fortunate to seriously study Japanese Embroidery and, upon returning to The United States, was able to introduce Japanese Embroidery to the Smithsonian.
Sarah and her husband Bedford live in Beaufort where she has a private practice in nutrition and health counseling and continues to study and teach Japanese Embroidery.
Lunch & Learn starts at 11:30 a.m. at the Chelsea Restaurant at 335 Middle Street in New Bern. Tickets are $16 for Historical Society members and $18 for non-members; lunch is included. Tickets must be purchased in advance by calling the New Bern Historical Society at 252-638-8558. Reservations are also available on line at www.NewBernHistorical.org/tickets/. Lunch choices are: Brown Butter Barbecue Chicken with sautéed zucchini and gourmet macaroni and cheese; or Taco Salad, Southwestern ground beef, mixed greens, sliced jalapeños, cucumbers, and tomatoes in a crisp tortilla bowl with cheddar-jack cheese and sour cream.
Join The New Bern Historical Society for another interesting and informative lunch program. For more information call 252-638-8558.
Submitted by: Kathy Morrison, New Bern Historical Society