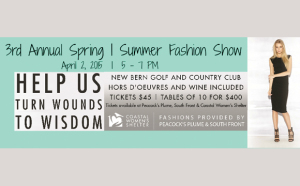 April 2, 2015 at the New Bern Golf and Country Club
Laura Johnson interviewed Carey Ashcroft, Fund Development Coordinator with the Coastal Women's Shelter to learn more about the upcoming Fashion Show Benefit. Listen to the radio interview aired on New Bern News Talk Radio WNOS 97.1FM and 1450AM. You can also hear the interview online on NBN's Libsyn page:

Carey Ashcroft said, "The Fashion Show is a fundraiser to raise awareness about domestic violence in our area. Eastern North Carolina, specifically, has a high domestic violence rate. One of the taglines behind the fashion show is 'Help us turn wounds to wisdom'."
Peacock's Plume and South Front Boutique are the sponsors for all of the fashions.
Tickets are $45 and a table of 10 is $400. Price includes wine and appetizers.
Purchase tickets at the Coastal Women's Shelter Office, 1333 S. Glenburnie Rd. or at Peacock's Plume, 218 S. Front St. or South Front Boutique, 225 S. Front St.
For more information, visit the Coastal Women's Shelter's website or Facebook page, or call 252-638-4509.
Tell us what you think by commenting below or sending us an email. Visit New Bern Now's Facebook page or sign up for the latest updates by submitting your email address in the right margin on New Bern Now's website.
Wendy Card