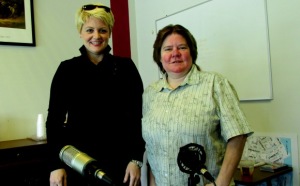 Laura Johnson and I enjoyed visiting with Jillian Hardin, Steering Committee Member for the Neuse River Senior Games, to find out more about the upcoming 30th Annual Senior Games events.
Jillian was excited to tell us about the upcoming Neuse River Senior Games.
Listen to the radio interview aired on New Bern News Talk Radio WNOS 97.1FM and 1450AM. You can also hear the interview online on NBN's Libsyn page:
Eastern North Carolina has enjoyed sunny days this winter, a great motivator to get outside and start practicing for this year's 30th Annual Neuse River Senior Games (NRSG). The NRSG are scheduled for April 21 – 30, 2015.
This year marks the 30th year that the Neuse River Senior Games have been held in Craven County. "In the years I've worked with this great program, there have been a lot of changes, two major ones just happened last year," says Johanne Pryor, NRSG Coordinator. Last year, NRSG voted to lower the age limit to participate. If you turn 50 years old anytime during 2015, you are eligible to compete in the games. Also NRSG featured the sport of Pickleball, similar to tennis, which was introduced in 2014 and turned out to be one of the most popular games. In addition, Ms. Pryor stated "we have also seen an increase in participation with more than 300 registered participants in 2014."
During the month of January participants can practice various games at the West New Bern Recreation Center on Pinetree Drive in New Bern. These practices include cornhole, shuffleboard, table tennis, billiards, basketball, horseshoes and croquet. This will be every Friday from 9:00 a.m. – 11:00 a.m. and the service is free.
The Neuse River Senior Games encompasses six counties including Craven, Duplin, Greene, Jones, Lenoir, and Pamlico. Qualifiers in the local games may go to the North Carolina Senior Games (NCSG) finals held every fall in Raleigh. Every other year participants who qualify at the State Games may continue on to the National Senior Games.
Registration for the 2015 NRSG and Silver Arts will begin Monday, February 9. Final registration ends Friday, March 20.
For more information or to register, contact Johanne Pryor, NRSG Coordinator, at 252-745-5252 or Mark Seymour, Events Director, at Craven County Parks and Recreation, 252-636-6606. For more information on NRSG, including registration forms, visit http://cravencounty.recdesk.com/recdeskportal/ click on the Senior Games tab on the left.
NCSG information, including sports rules, is available at www.ncseniorgames.org. NRSG is sanctioned by North Carolina Senior Games and is sponsored by the North Carolina Division of Aging and Adult Services.
Above information provided by: Jillian Hardin, MPA, CIRS-A, Human Services Planner, Eastern Carolina Council, Area Agency on Aging
Tell us what you think by commenting below or sending us an email. Visit New Bern Now's Facebook page or sign up for the latest updates by submitting your email address in the right margin on New Bern Now's website.
Wendy Card