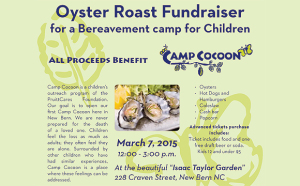 When we heard about the upcoming fundraiser for Camp Cocoon, a bereavement camp for children, we met with Kimberly Leccia, Community Relations Representative for PruittHealth, to find out more. Listen to Laura Johnson radio interview with Kimberly aired on New Bern News Talk Radio WNOS 97.1FM and 1450AM. You can also hear the interview online on NBN's Libsyn page:

Join the PruittCares Foundation for this unique fundraiser for Camp Cocoon on March 7, 2015 from 12 – 3pm in the Isaac Taylor Gardens at 228 Craven St., New Bern.
This isn't just an oyster roast as adults and children can enjoy hot dogs, hamburgers, coleslaw, and popcorn. They will also have a cash bar and silent auction.
Entertainment will be provided by local and Nationally renowned Country Music Artist Bryan Mayer and his Band.
They plan on making this an annual event for New Bern.
Laura asked Kimberly to tell us more about Camp Cocoon. She replied, "It's a bereavement camp for children ages 6 – 17 that helps kids deal with grief after loss of a loved one. Adults get help from many sources but children are not so fortunate. This Camp helps children understand they are not weird, not alone, their feelings count, they are normal, and things will get better."
"The Camp helps equip children with tools and techniques to deal with grief through activities designed to move them to a better place in their grief journey. It's staffed by volunteers that are trained to help people in these situations and by people who care. The children experience a day filled with activities designed for bereavement."
Although "Camp Cocoon has been held in North Georgia for 12 years; over the past 5 years we have started 6 new one day camps and are expecting to start at least 6 more in the next few years. Camp Cocoon will be coming to this area within the next 12 to 18 months."
Tickets are $30 advance and $35 at the door. They can be purchased at Pruitt Hospice Office, 810 Kennedy Ave. (behind the Sonic on Neuse Blvd.), First South Bank, and Mitchell Hardware on Craven St. in New Bern.
Kimberly thanked all of their sponsors along with PruittHealth Hospice and Home Health employees and the Pruitt Neuse, Trent, and SeaLevel Facitilities.
For more information, visit PruittCares.org.
We hope to see you at this special event!
Tell us what you think by commenting below or sending us an email. Visit New Bern Now's Facebook page or sign up for the latest updates by submitting your email address in the right margin on New Bern Now's website.
Wendy Card