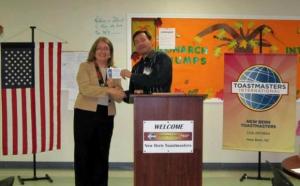 New Bern Toastmasters Holds Annual Open House on Tuesday, February 24, 2015, at 6:30 p.m., at the Monarch Center, 1320 Health Drive in New Bern.
As part of their annual membership drive, New Bern Toastmasters is holding an Open House on Tuesday, February 24, 2015, at their regular meeting location, the Monarch Center, 1320 Health Drive in New Bern. Guests are invited to arrive at 6:30 p.m. for light refreshments. From 7:00 p.m. to 8:30 p.m., the club will showcase a regular meeting, explaining and demonstrating the various rolls club members fill on a weekly basis.
"Toastmasters International recently celebrated 90 years as an organization who assists individuals in pursuing personal development through communication and leadership skills. The New Bern Toastmasters club, now entering its third year, is a diverse group of individuals of all ages and from all walks of life. We instill confidence in a safe, supportive, and fun environment every week. Our annual Open House is an opportunity for guests to meet our club members and to learn what Toastmasters is all about." said Susan Namowicz, President of New Bern Toastmasters.
"I have multiple ambitions in life that will require me to develop my public speaking skills. Toastmasters provides the training and supportive environment to do just that." says Garret Biss, New Bern Toastmasters club member for one year.
People join Toastmasters for various reasons. Becoming a member provides a great opportunity to hone speaking skills, overcome fear of public speaking, prepare for job interviews, and develop leadership skills in a supportive and self-paced environment. Toastmasters provides the more seasoned speaker with opportunities to develop special capabilities, to compete on the regional, state and national level, and to participate in the speaker's bureau.
New Bern Toastmasters Club meets every Tuesday night at 7:00 p.m. at Monarch's Health Services Building, 1320 Health Drive.  Guests are always welcome!
Find us on Facebook at: Toastmasters International – New Bern, N.C. Chapter
About Toastmasters International:
Toastmasters International is a nonprofit educational organization that teaches public speaking and leadership skills through a worldwide network of clubs. Founded in October 1924, the organization currently has more than 280,000 members in 13,500-plus clubs in 116 countries. Each week, Toastmasters helps more than a quarter million people of every ethnicity, education level and profession build their competence in communication so they can gain the confidence to lead others. For information about local Toastmasters clubs, please visit www.toastmasters.org. Follow @Toastmasters International on Twitter.
Submitted by: Karen Monroe, VP Membership, New Bern Toastmasters