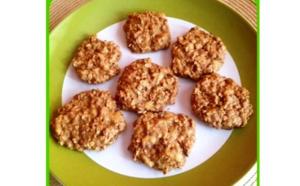 The holidays are (finally) past, and a new year is upon us.  Hard to believe that 2015 is already here!!  With the ringing in of a new calendar year comes the season of reflection for New Years Resolutions, and one of the top resolutions is always "I want to lose __ pounds."
One of the top 10 "Health" related goals that American's make is to eat a healthy breakfast.
So today we want to share a recipe that will help you start your morning off right!
Coach Blair's BeyondFit Breakfast Cookies
Ingredients:
1.5 C uncooked oatmeal (quick cooking or regular)
2 ripe and mashed bananas
1 C unsweetened applesauce
1/3 C raisins (to taste)
¼ C chopped almonds
1 teaspoon vanilla extract
1 teaspoon cinnamon (more/less to taste)
Directions:
Combine the applesauce, vanilla, and cinnamon first
Add all other ingredients
Let sit for 10 minutes
Spoon onto cookie sheet (either use non-stick spray or use parchment paper)
Bake 30 mins at 350 degrees until golden brown and done
Let sit on cookie sheet for 5mins before removing to cooling racks
Let cool completely before storing in air-tight container
They've got enough natural sweetness yet it's not overwhelming, they've got the crunch of the nuts, the surprise of the raisins, and they've been working as a fabulous grab and go breakfast option!  AND they sneak in the oatmeal that I should be eating!
What are some of your favorite fast and on the go fat-loss friendly breakfast options?
Share on Twitter or Instagram with the hashtag #beyondfitlife
Not sure where to start with fat loss?  We have easy to follow workouts online at BeyondFit Life!  And if you'd like an in person workout with a personal trainer, check out our  Bikini Boot Camp so you get started with your healthier life TODAY!
By Contributing Author, Kate Horney of BeyondFit Phsyiques