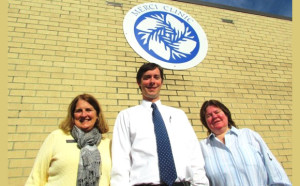 Laura Johnson and I enjoyed our visit to MERCI Clinic to find out more about the upcoming 4th Annual Pancake Breakfast at Morgan's Tavern and Grill.
We met Priscilla Miller, Executive Director, and Charles Cushman, President of the Board of Directors for MERCI Clinic.
They were excited to tell us about this special holiday fundraiser with Morgan's Tavern and Grill.
Listen to the radio interview aired on New Bern News Talk Radio WNOS 97.1FM and 1450AM. You can also hear the interview online on NBN's Libsyn page:
Support the MERCI Clinic by joining them for "one of their most enjoyable annual fundraisers" on Saturday morning, December 13th from 6:30am – 10:00am.
100% of the proceeds benefit the MERCI Clinic.
"It's really a pretty incredible thing – Morgan's provides the food, the venue, and their wonderful staff at no charge whatsoever. We just get to keep all of the revenue! The food is excellent and it's always a good time."
For only $9 per person, enjoy pancakes with your choice of sausage or bacon; fresh fruit; coffee, juice, or other beverages.
Morgan's Tavern and Grill is located at 235 Craven Street in Downtown New Bern.
All proceeds and donations benefit MERCI Clinic!
Debit, credit cards, checks and cash are accepted.
No reservations required as this is a pay at the door special event.
Santa showed up last year and he may surprise this year's attendees!
For more information, call the MERCI Clinic at 252-633-1599 or visit their website and Facebook page.
Tell us what you think by commenting below or sending us an email. Visit New Bern Now's Facebook page or sign up for the latest updates by submitting your email address in the right margin on New Bern Now's website.
Wendy Card