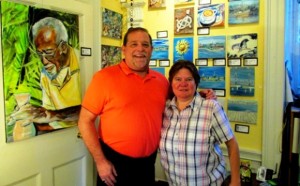 Laura Johnson interviewed Don Elmore, Director of La Cage Aux Folles. to learn more about this entertaining play.
Listen to the radio interview aired on New Bern News Talk Radio WNOS 97.1FM and 1450AM. You can also hear the interview online on NBN's Libsyn page:
Here are the details of this Musical Comedy (PG-13) from the New Bern Civic Theatre's website:
Book by Harvey Fierstein, Music and Lyric by Jerry Herman, Based on the play by Jean Poiret
Produced by special arrangement with Samuel French, Inc
Directed by Don Elmore
Produced by Karen Pierson
Musical Direction by Brandon Banks
Evenings: November 7, 8, 14, 15, 21 & 22 at 7:30 p.m.
Matinees: November 9 & 16 at 2 p.m.
Admission: Advance $17,  Door $19,  Students and active duty military $10 with photo ID
La Cage Aux Folles remains one of the all–time biggest hits, adding a new twist to theatrical comedy. After 20 years of unwedded bliss Georges and Albin, two men partnered for better or worse, get in a tight squeeze when George's son (fathered during a one–night fling) announces his impending marriage to the daughter of a bigoted, right–wing politician. Further complicating the situation is the "family business" — Albin and Georges run a drag nightclub in St. Tropez, where Albin is the "star" performer 'Zaza'. Georges reluctantly agrees to masquerade as "normal" when he meets the family of the bride-to-be. But you cannot hide from the truth and the results are hilarious.
For more information, call the New Bern Civic Theatre at 252-633-0567 or visit their website and Facebook page.
Tell us what you think by commenting below or sending us an email. Visit New Bern Now's Facebook page or sign up for the latest updates by submitting your email address in the right margin on New Bern Now's website.
Wendy Card