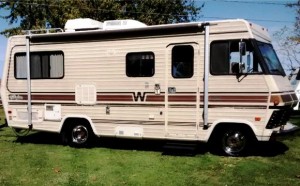 "A vintage motorhome with the mission of shining a spotlight on cross-country creativity."
For the next year, Mary Kenny, a graduate of UNC Charlotte, will be living, working and blogging from a 1984 Winnebago Chieftain Motorhome, a project she calls "Motor Homemade." Her mission is to use the RV to shine a spotlight on cross-country creativity.
Motor Homemade will be in New Bern, NC 11/14/14-11/20/14, and is seeking local artists: musicians, foodies, craftsmen, entrepreneurs, & educators who are sharing their imagination with their community. Interviews, still photos, and short videos will be published on MotorHomemade.com. In addition to sharing their process and influences, Motor Homemade will facilitate partnerships, educational opportunities and potential collaborations between local artists and organizations; think of Motor Homemade as a roving artist residency.
Motor Homemade is going to big cities and small towns and a few unexpected places in between. Over the next 12 months, Motor Homemade will make stops in over 30 cities nationwide.
The Indiegogo Campaign: www.igg.me/at/motorhomemade
As an independent artist and entrepreneur Mary Kenny has invested her own time and money for the initial steps of Motor Homemade, but she has started an IndieGoGo campaign to support the journey. With the help of her network, she has raised over $3000 in one week. Her goal is to raise $5500 by November 25.
Any contribution to Motor Homemade directly funds the creation of high-quality audio, video, and interviews that artists will be proud to share. The money earned will offset the cost of: RV maintenance, A/V equipment, marketing materials, art supplies, entry fees to state parks & cultural institutions, travel and accommodations for visiting artists, and contingency for emergencies.
As a thank you for your contribution ($10 – 100), you will receive Motor Homemade t-shirts, stickers, and posters. For those willing to donate $200 – $1000, perks include your business name painted on the motorhome as an official sponsor, featured blog posts for your organization, a motor homemade dinner for you and a guest, or a receiving a year of hand-written postcards from the road. For the most generous of donors ($5000), Mary will tattoo their name on her body.
Social Media:
• Like Motor Homemade on Facebook (http://www.facebook.com/motorhomemade)
• Subscribe to the Motor Homemade Blog (http://www.motorhomemade.com)
• Share this campaign on your Facebook, Twitter and Instagram using #motorhomemade! (http://www.igg.me/at/motorhomemade)
About Mary Kenny: She's a freelance graphic designer, event producer, professional creative thinker. After earning a Bachelor's Degree in Theatre from the University of North Carolina at Charlotte, she relocated to Greenpoint, Brooklyn and began working as a freelance graphic designer for Broadway, off-Broadway and Regional Theatres. She later expanded her career to entertainment marketing and Television, fashion show, & event production, working with New York's top marketing agencies, production companies, and major television networks. Her portfolio can be viewed at http://www.verymaryk.com.
Submitted by: Mary Kenny, Motor Homemade