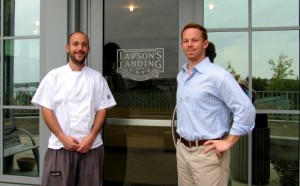 The Bengel family hopes to enhance local dining experiences with fresh, new perspectives.
Last week I caught up with Buddy Bengel, Managing Partner of Bengel Hospitality. According to Buddy, Bengel Hospitality is committed to providing the ultimate dining experience. From breakfast, brunch, lunch, dinner, to a unique wine tasting and small plates experience, you can count on any one of their four restaurants entice your palates and give you a wonderful epicurean experience.
Baker's Kitchen, Ribeyes, Lawson's Landing and Aperitivo are all located in downtown New Bern, an area they see as the dining epicenter for New Bern.  The Bengel family's efforts have already had a positive impact on Downtown by purchasing, renovating, and increasing visitors to their restaurants. The more people who come Downtown to eat; the greater the chances that they will walk it off and patronize local shops.
The goal of Bengel Hospitality is to add to the dining culture in New Bern by enhancing customer experiences. Buddy hopes that other restaurants will see what they're doing and join the movement.
Buddy and I met at Lawson's Landing Café at the NC History Center and we had the perfect riverfront view in Downtown New Bern.
When the waitress presented lunch to the ladies next to us, one said, "Wow, this salad is huge," with the other saying that everything looked delicious. By the end of lunch, they were obviously very satisfied with their affordable and tasty meals.
Lawson's Landing is committed to buying local and providing fresh and appetizing meals with a twist on traditional dishes. Chef Ben Strange efficiently utilizes their small kitchen as he makes all meals to order with fresh, quality ingredients.
It's a win-win public and private partnership. Buddy said, "What's good for the restaurant is good for Tryon Palace. Building the Lawson's Landing brand will increase both traffic to the restaurant and the NC History Center."
Lawson's Landing Café at the NC History Center offers: breakfast, lunch, and Sunday brunch with different menus for each. Take a look at the menus here: breakfast link, lunch link, and brunch link.
Besides Lawson's Landing, Bengel Hospitality also manages Ribeyes Steakhouse. Although Ribeyes is a franchise, the Bengel's reinvented the menu with Chef Josh Scallan. Now, you can enjoy Filet Minion, NY Strips, seared Duck, their famous endless salad bar, and steak toppers like blue cheese are only a few additions. They swapped out the Texas toast for a fresh baked loaf of bread from Baker's Kitchen for each table. They also changed up the dessert menu to offer Italian desserts like tiramisu and lemon mascarpone cake, flourless chocolate cake, homemade peanut butter pie, and more. They're working with Beer Army, Mother Earth Brewery and other NC craft breweries. They will also have a revamped new wine list that will include both New World and Old World wines. They want Ribeyes to become New Bern's Premiere Steakhouse. Visit Ribeyes at 313 Pollock St. or call 252-288-5814.
Their most recent business venture is Aperitivo Wine Bar. The grand opening is November 26th and they will be open Wednesday thru Saturday from 5 – 11pm. Enjoy a sophisticated atmosphere with wine and Italian-themed small plates to compliment your experience. Juliet Hasz, Aperitivo manager, is a Certified Wine Specialist and Level 1 Sommelier. They will offer a large variety of Italian wines, many by the glass thanks to an innovative. Custom Wine preservation system. Dine on a selection of cheese plates, custini's or create your own meat, cheese and olive plates. Aperitivo is located inside of Lawson's Landing at the NC History Center.
Let's talk about their Flagship restaurant, Baker's Kitchen. If you live in the Greater New Bern area, the chances are pretty good that you've enjoyed breakfast at Baker's Kitchen. If you haven't you don't know what you're missing! They're known for the "Best French Toast in Town," especially topped with their famous Butter Syrup. If you prefer something else, they offer delicious breakfast, lunch and dinner options. I would be remiss if I didn't mention their delicious homemade bread and desserts from their bakery!
Becky Bengel leads the Baker's Kitchen team and on most days, you'll see her asking the customers for feedback. They listen to their customers and change the menu to satisfy them. Some days you'll see people patiently waiting in a line leading out the door. This is a sure sign that they obviously know how to run a successful restaurant that the community loves! I would wait in line any day of the week at Baker's Kitchen. Visit them at 227 Middle St. or call 252-637-0304.
Involved in the community, Bengel Hospitality partnered with local businesses for Bractober event. They teamed up with Beasley Broadcasting and JaqJill for a fashion show at Ribeyes to raise money for the American Cancer Society. They look forward to working with other businesses for the greater good of our Town.
We wish Bengel Hospitality the best in their future endeavors and hope to see you at one of their restaurants!
Tell us what you think by commenting below or sending us an email.
Wendy Card