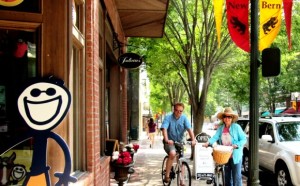 16th: North Carolina Symphony presents "At the Oscars®", pre-concert talk: 6:30pm; concert at 7:30pm at the New Bern Riverfront Convention Center. Call 877-627-6724.
17th: Carolann Solebello in Concert, 7:30pm at the Trent River Coffee Company. Call 633-6444.
17th – 18th: Havelock Chili Festival, Fri: 5pm – 9pm; Sat: 10am – 4pm, Walter B Jones Park in Havelock. Call 447-1101.
17th – 18th: 10th Annual Neuse River Bridge Run and Be Healthy Be Active Expo at the New Bern Riverfront Convention Center on Friday and Union Point Park on Saturday.
17th – 19th: "Disney's Peter Pan JR", Fri – Sat: 8pm; Sun: 3pm, at the Masonic Theatre presented by the Rivertowne Players. Call 638-2577.
17th – 19th: David Mamet "RACE", Fri – Sat: 8pm; Sun: 2pm, presented by Ratio Theatre Company and Craven Community College in the Orringer Auditorium. Call 518-5869.
18th: Tough Enough to Wear Pink Bull Riding Benefit at 7:00pm. Presented by Hang'n Tree Summer Series Finals at 721 Dry Monia Rd., Tuscarora. For details call 633-3868.
18th: Grow Workshop at the Veterans Employment Base Camp and Organic Garden, 8:30am – 4:00pm at Stanley White Recreation Complex, 901 Chapman St. For details call 919-525-5946 or 252-637-9350.
There also all kinds of fun activities to include something to do for all ages!
Visit the local Art galleries and shops to admire the vast array of art on display by local Artists.
Check out Amusements to learn about fun and games. Some examples are miniature golf, rollerskating, playing bingo, bowling, and much more!
Relieve some stress by working out at the local Fitness Centers.
Learn about New Bern's 302 years of History by taking a professionally guided or self-tours and visit the many historical landmarks.
Spend some time at the New Bern – Craven County Library, read a book, use the computer, and better yet, take some FREE computer classes!
Get some fresh air by taking a walk in the park. Your kids will have a blast at the local playgrounds and water park. Your dog can play with others in the "dog park". Thanks to the City of New Bern's Parks and Recreation and Craven County Recreation and Parks there are over 20 parks, a community resource center, and two recreation centers in our community. They also organize numerous events and classes throughout the year.
Enjoy a Night on the Town by attending a live performance, singing Karaoke or dancing, or watching a movie at the box office.
Get back to nature by visiting Outdoor Recreation and see the hotspots for biking, boating, camping, fishing, golfing, hiking, hunting, tennis, scuba diving, etc.
Enjoy a stroll through the New Bern Farmer's Market. The locals gather here on the weekends to shop for arts and crafts, food, and many other unique gifts. They even have live bands throughout the year.
What are you doing this weekend?
Tell us what you think by commenting below or sending us an email. Visit New Bern Now's Facebook page or sign up for the latest updates by submitting your email address in the right margin on New Bern Now's website.
Wendy Card