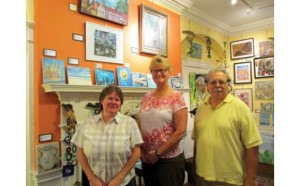 Laura Johnson interviewed Lynn Peck-Collins and Ed Dzioba, co-chairs for the Twin Rivers Quilters Guild "Bee by the River 2014" Quilt Show to find out more about the Guild and Show.
Listen to the radio interview aired on New Bern News Talk Radio WNOS 97.1FM and 1450AM. The interview is published on NBN's Libsyn page:
Twin Rivers Quilt Show "Bee by the River" on Friday, October 31st from 10am – 7pm and Friday, November 1st from 9am – 5pm at the New Bern Riverfront Convention Center.
Lynn said, "We have 246 quilts entered along with some very special displays and 22 vendors".
Ed told us about a unique quilt on exhibit, "The Berne House Quilt. Made by the Members of the Bernese Quilters of Bern, Switzerland. This magnificent quilt is 118" by 128" and has 150 individual blocks. Be sure to look for the clock tower block." This quilt was on display at the Houston International Quilt Market in 2012. Twin Rivers Quilter, Rosemary Trebucii, saw it and asked the spokeswomen if we they could display it in the "Bee by the River" Show. It will be showcased along side of our own City of New Bern Quilt that was made for our 300th Anniversary.
They will also have a special booth celebrating the Twin Rivers Quilters Guild 30th year Anniversary. Don't miss their community service booth, a raffle booth that features flowers from our hearts raffle quilt, and ongoing demonstrations on quilting techniques and the boutique full of handmade gift items. The final booth is twice around treasures stuffed with gently used quilting and crafting notions.
Tickets are $7 at the door and children 16 or younger are free when accompanied by an adult.
For more information, visit their website:  www.twinriversquiltersguild.com  or Facebook page.
Tell us what you think by commenting below or sending us an email. Visit New Bern Now's Facebook page or sign up for the latest updates by submitting your email address in the right margin on New Bern Now's website.
Wendy Card