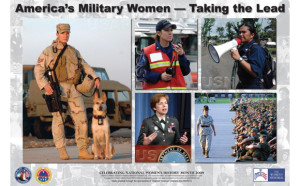 Did you know that women have been serving in the military since the Revolutionary War?
Wanting to make a difference, passion and a sense of service led some women to to disguise themselves as men to be accepted in the military. Thankfully we don't have to do that anymore! Our Country has come a long way since then and three women have achieved the Four Star Rank (Admiral Michelle Howard, US Navy; General Janet Wolfenbarger, US Air Force; and General Ann Dunwoody, US Army).
We ask you to join us on October 30th, 11:30am – 1:30pm, to recognize military women during our Annual Salute to Women of the Military: Past and Present luncheon. Lunch will be served at 12:00pm at the Havelock Tourist and Event Center.
We are honored to have General Wilma Vaught USAF (RET) join us as this year's Guest Speaker. General Vaught is president of the Women In Military Service For America Memorial in Washington, DC.
Tickets are $20 per person and the deadline for purchase is October 24th. You can sponsor a table for $250, which includes 8 tickets plus a tax receipt for $90.
A limited number of tickets are available at Promise Place, 1401 Park Place in New Bern (636-3381) and the D.A.V. Office, 468 Hwy 70 West in the Westbrook Shopping Center in Havelock (652-9166).
Please make check payable to Promise Place (Annotate: "Salute to Women of the Military).
This special event is sponsored by Promise Place; Craven County Veterans Service Office; Eastern Region, NC Council for Women.
For more information, please visit our Facebook Page: SaluteMilitaryWomen or call Bee Mayo at 637-2055 or Wendy Card at 638-6858.
Wendy Card