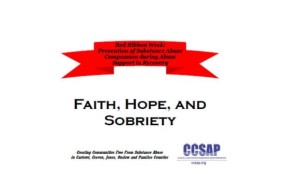 Our children have the right to grow up drug free – and we have the responsibility to make that happen. We want to prevent drug abuse, and encourage those who need our compassion and support in facing addiction challenges. It impacts us all. This is why we are asking you to join us in celebrating Red Ribbon Week October 23 – 31.
From 2007-2012, our CCSAP counties have lost a total of 249 residents to drug and alcohol overdose, not including accidents while under the influence or innocent victims of those accidents. Too many youth are becoming addicted to face a lifelong struggle for sobriety. In a 2013 survey of CCSAP counties' students, one in every nine 8th grade students use alcohol regularly and one in 20 use marijuana. As high school seniors, one in every three students uses alcohol, one in every four uses tobacco and marijuana and one in every 12 misuses or abuses prescription drugs.
This year CCSAP task forces decided to raise awareness about Red Ribbon Week through our partners in faith. We have asked ministers to give a message about the importance of a drug free community in their sermon this upcoming Sunday, and/or use the accompanying photo in their bulletins. We are asking our message to cover the points below:
1. As parents, siblings, teachers, coaches, mentors and residents in our communities, we will talk to our children and the children in our lives about the dangers of drug abuse.
2. We will set clear rules for our children about not using drugs.
3. We will monitor our children's behavior and enforce appropriate consequences, so that our rules are respected.
4. We will set a good example for our children by not using illegal drugs or medicine without a current prescription.
5. We will encourage family and friends to follow the same guidelines to keep children safe from substance abuse.
Please consider asking your faith leader to participate in this important awareness campaign. Thank you.
Submitted by: Carol Mattocks, Coastal Coalition for Substance Abuse Prevention