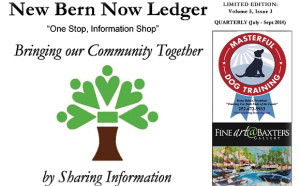 If you haven't seen the hardcopies of the July – Sept Quarterly Ledger, you can pick one up at the following locations. You can also enjoy reading the online version as it's in color and has links to websites.
Our Sponsors locations:
Aerie Bed and Breakfast, Guest House, and Conference Center; Fine Art at Baxters Gallery; Carolina Creations Fine Art and Contemporary Craft Gallery; C. Foy Tonsorial Parlor; Chasin' Tails Doggie Spa; Coastal Carolina Regional Airport; Coldwell Banker – Willis Smith Real Estate; Isaac Taylor House and Gardens; James Arthur Construction; Kincaid Family Dentistry; Lynaire Kennels and Crematory; Masterful Dog Training; The Meadows Inn; Mitchell Hardware; New Bern KOA; Paula's Pizza and Italian Restaurant; Poor Charlie's Flea Market and Antique Store; PS Productions Audio and Video Recording Services; Studio Verve – Chuck McGuire; Thurman Rd Auto Service Center; Trent River Designs; Twice as Nice Upscale Consignment Boutique;
Other locations around the Greater New Bern area:
One World Shop; Convention Center; Greater Good Gallery; Trent River Coffee Company; Bear Town Java; Accidental Artist; Swiss Bear Downtown Development Corporation; New Bern Area Chamber of Commerce; New Bern Historical Society; DoubleTree by Hilton; New Bern Preservation Foundation; Courtyards by Marriot; North Carolina History Center; Cow Café; Ballentynes; Laundry Mat on Glenburnie; New Bern Hampton Inn; Chasin Tails; Springhill Suites; Atlantic Neurology; Crystal Coast Pain Management; New Bern/Craven County Library; River Bend Library; The Birthplace of Pepsi Store; Craven Animal Hospital; Four C's; Shell Station in James City; McCarthy Square Pharmacy; Realo Drug Store on Commerce Dr.; Beads And Bowls; Raggamuffins; Peddlers Depot; Kitchen On The Trent; and Uniques Florist.
Special thanks to Griffin and Tilghman Printing Company for your speedy and quality services in printing the Ledger! We really appreciate all you do to accommodate our needs!
Let us know if you'd like us to drop off hardcopies at your non-profit and/or business!
Tell us what you think by commenting below or send us an email. Visit New Bern Now's Facebook page and "Like" us if you want to stay up to date on the latest information!
Thank you,
Wendy Card