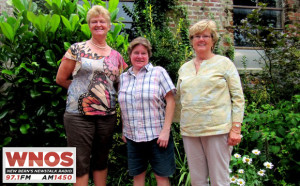 Laura Johnson interviewed Lynn Peck-Collins, co-chair for the Twin Rivers Quilters Guild "Bee by the River 2014" Quilt Show to find out more about the Guild and Show.
Listen to the radio interview aired on New Bern News Talk Radio WNOS 97.1FM and 1450AM. The interview is published on NBN's Libsyn page: www.newbernnow.libsyn.com:
Laura usually does the interviews on her own, but I wanted to meet Lynn Peck-Collins and Rosemary Trabucchi, the Guild's Librarian at the Isaac Taylor Garden for a fun and educational interview.
They're excited to announce the upcoming "Bee by the River 2014" Quilt Show on Friday, October 31st from 10am – 7pm and Saturday, November 1st from 9am – 5pm at the New Bern Riverfront Convention Center.
Since 1968, The Guild has been hosting a show in the even numbered years. In 2008, they moved the show to the Convention Center.
They encourage people to enter their latest masterpieces into the show. You don't have to be a member to enter your quilts, but there's a small entry fee of $10 for non-members. If you're not in this area, the quilts can be shipped!
This is a non-juried, judged show and it's open to all non-guild members to enter their quilts. Their judge is a National Quilters Guild Association Certified Judge.
This year, they're anticipating over 250 quilts to be entered in the show.
They also have 17 vendors with quilt related goods, "So the shopping is going to be fabulous"!
Benefits to enter include over $600 in prizes for best of show, business sponsored special merit awards, and viewer's choice.
The quilts can be entered to be either judged or non-judged.
They hope you'll join them for the "Bee by the River 2014" Show to help celebrate the Twin Rivers Quilters Guild's 30th Anniversary!
You can purchase tickets at the door for $7 per person and children under 16 are free when accompanied by an adult.
Entry forms are due by September 18th and they're available on their website: TwinRiversQuiltersGuild.com. Check out their Facebook page to stay up to date on the latest information. For more information, call 252-637-9473.
Tell us what you think by commenting below or sending us an email. Visit New Bern Now's Facebook page or sign up for the latest updates by submitting your email address in the right margin on New Bern Now's website.
Wendy Card