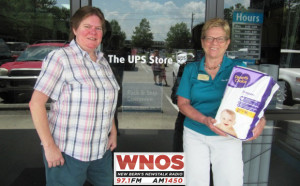 Laura Johnson interviewed our friend, Pat Drake of the Tryon Civitan Club and co-owner of the UPS Store to learn more about "No Child Wet Behind".
Listen to the radio interview aired on New Bern News Talk Radio WNOS 97.1FM and 1450AM. The interview is published on NBN's Libsyn page: www.newbernnow.libsyn.com:
During the month of August, the Tryon Civitan Club in conjunction with the UPS Store of New Bern will be collecting diapers for their service project, "No Child Wet Behind".
They'll be collecting disposable diapers for infants, toddlers, and adults.
All donated diapers will be split between the Coastal Women's Shelter and Religious Community Services. Each of these organizations go thru between 25 and 30 cases per month.
One major need for some low income family is diapers. For an infant or young child, you can spend between $100 and $150 a month on diapers.
We were surprised to hear that food stamps, WIC, or other public assistance programs don't cover the costs of diapers. Daycares don't take cloth diapers, they only accept disposable diapers.
You can make a difference by donating diapers to the drop off at the UPS Store at 1822 S. Glenburnie Rd.!
For more information, please call Pat Drake or Mack Paul at 252-637-7500.
Tell us what you think by commenting below or sending us an email. Visit New Bern Now's Facebook page or sign up for the latest updates by submitting your email address in the right margin on New Bern Now's website.
Wendy Card