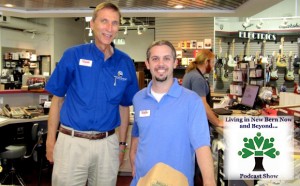 We're excited to announce that we've expanded our reach with Living in New Bern Now and Beyond's podcasting show!
Listen to the 1st episode of NBN and Beyond on your smart phones, IPads, IPods, PCs, and other devices!
We would like to specially thank Wade Fuller, owner of Fuller's Music Store, and Mike Lancaster, Professional Recording Specialist for teaching us how to use our new mixer and podcasting equipment! This was our first visit to Fuller's Music Store and I'm sure it won't be the last. Did you know that they are the oldest privately owned music store in North Carolina? They also provide a number of lessons to include guitar, piano, violin, band, drums, recording, and many more!
During the episodes, we will be sharing the latest information about our cozy and happening town of New Bern and Beyond. Beyond, meaning our travels throughout Eastern North Carolina.
In the 1st Show, Laura Johnson and I highlighted:
– Things to do this Summer
– New Bern Tours
– Fun Day trips in and around Eastern NC
– Upcoming Events
– The New Bern Farmer's Market
The 10-20 minute show is scheduled for every other week and we will post mini-episodes (community segments) that will also air on New Bern's News Talk Radio Station WNOS 97.1FM and 1450AM.
Stay tuned for future episodes as we'll talk about local happenings, entertainment, arts, history, outdoor life, healthy living, beauty, social media, non-profits, businesses and much more!
Please let us know if you have any comments, suggestions, or would like to set up an interview and spread the word about a special event or other interesting topic. We look forward to hearing from you!
You can subscribe to New Bern Now and Beyond by pressing the orange Syndication RSS feed located under the calendar: http://newbernnow.libsyn.com/.
Tell us what you think by commenting below or sending us an email. Visit New Bern Now's Facebook page or sign up for the latest updates by submitting your email address in the right margin on New Bern Now's website.
Thank you,
Wendy Card